HU Arizona Takes Home 12 Awards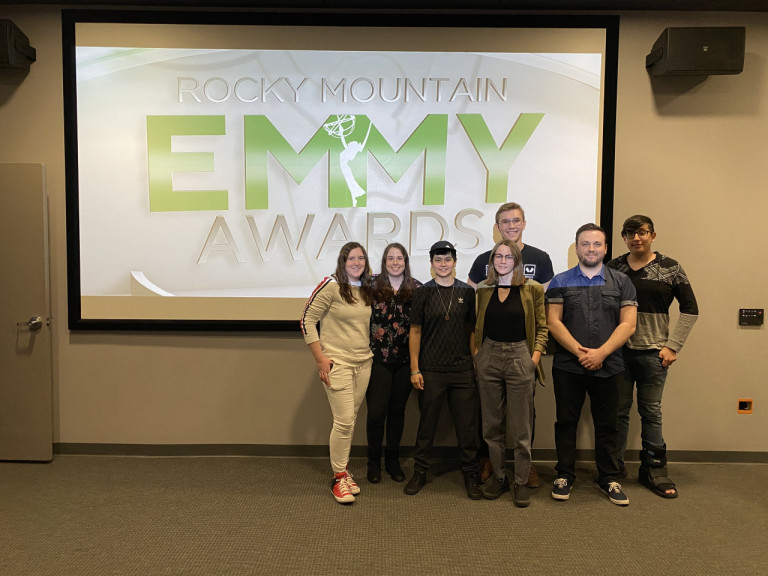 FOR RELEASE: Tuesday, November 16, 2021
Huntington University Arizona is pleased to announce that HU students are bringing home 12 Rocky Mountain Emmy Student Production Awards for 2021!
With 26 nominations (more than double the number of 2020 nominations), HU Arizona received the highest number of Rocky Mountain Emmy Student Production Award nominations, and with 12 wins, HU Arizona was the winningest school represented. All of the other schools with nominations are significantly larger than HU Arizona, the closest in size being over 121 times larger, and the largest being well over 300 times the size of HU Arizona.
2021 HU Arizona Student Production Award Winners
College Video Essay
"Baked Chemistry"
Olivya Bryant, photojournalist

College Music Video
"Falling"
Alex Kennedy, producer/director

College Fiction Short Form
"Stitched Together"
Realiti Ibsen, director, Alexa Bland, animator, Kesmine Hickman, animator

College Fiction Short Form
"Scorn"
Xander Williams, director

College Fiction Long Form
"Murphy"
Chloe Caufield, writer/director, Sam Dorcey, producer, Lisette Perez, cinematographer, Wilson Hickman, editor

College Animation/Graphics/Special Effects
"Huntington Promo"
Nathan Holt, motion graphics lead

College Animation/Graphics/Special Effects
"Mending Needle"
Laurel Zeiler, lead artist

College Audio/Sound
"Scorn"
Xander Williams, sound mixer/designer

College Director
"Rocket Science"
Kenny Gondales, director

College Photographer
"Standby"
Jose "Pepe" Sifuentes, cinematographer

College Photographer
"By Good Rights"
Alexis Lopez, cinematographer

College Writer
"Scorn"
Xander Williams, writer
For over a decade, the Rocky Mountain Southwest Chapter of the National Academy of Television Arts & Sciences has hosted the Regional College Student Production Awards for Excellence. These Awards are intended to recognize excellence in the academic pursuit of skills necessary to produce outstanding quality multimedia content for the television industry. For the full list of recipients, visit the Rocky Mountain Southwest Chapter's website.
Huntington University Arizona opened its doors in 2016, welcoming students seeking a degree in digital media arts. Since that time, students have created regionally and nationally awarded work, including ADDY awards, BEA Best of Fest awards, and Emmy Student Production Awards. The 30,000-square-foot building houses bachelor's degree programs in animation, film production, broadcast media, and graphic design. The facility features film and TV studios, high-end computer classroom/labs, private editing suites, a state-of-the-art TV control room, a Foley pit, a host of EFP and cinema cameras, and lighting gear for student production work.