HU Arizona Welcomes New Cohort of OTD Students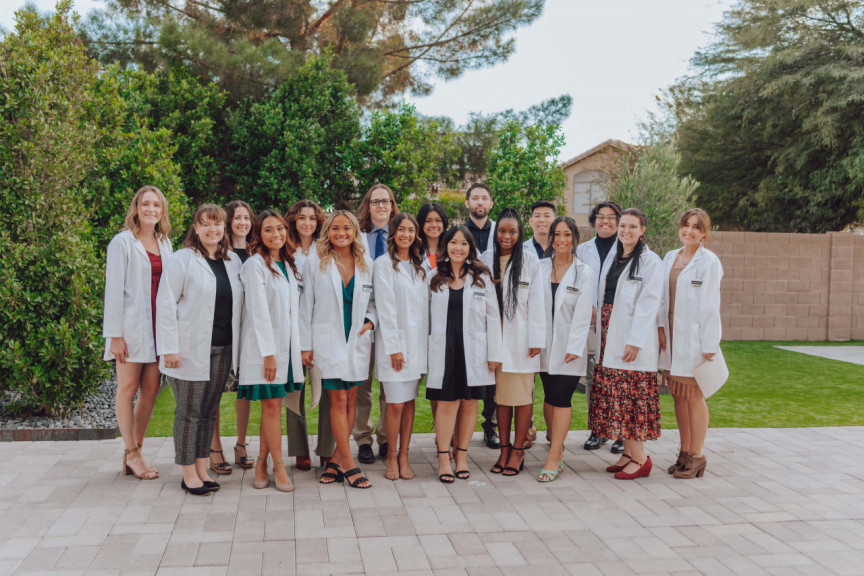 FOR RELEASE: Thursday, February 17, 2022
Huntington University Arizona welcomed seventeen students to the Doctoral Program in Occupational Therapy (OTD program) on January 22, 2022, with a White Coat Ceremony.
"This is a highly qualified group of students," said Dr. Evelyn Andersson, director of OTD Arizona. "They come to us from as far as Vermont and Connecticut, choosing Huntington University in Arizona for their education to become occupational therapists, believing that after this, they will be more than qualified to enter the OT profession in the fall of 2024."
The new cohort includes Charles Abarquez, Elizabeth Aceves, David Gillon, Kimyia Jamison, Jasmine Jaramillo, Samantha Jocson, Sabrina Lathrop, Owen McClure, Emily McCombs, Ariana Pitruzzello, Keanne Prollamante, Grace Quindara, Aubrey Reese, Hannah Ryan, Binh To, Madison Trujillo, and Arvinelle Victa.
The White Coat Ceremony signifies each student's commitment to deliver the best care to their patients, with compassion and empathy as the hallmark of their clinical practice. HU's occupational therapy program equips students for professional service, promoting the development of skills in leadership, advanced practice and research while encouraging growth in faith.
Huntington University's OTD program was one of the first of its kind in the country, and HU's occupational therapy assistant program is the first bachelor's-level program in the country. Occupational therapy was the first doctoral program offered at Huntington University and has been graduating impressive cohorts of students since May 2017.