HU Nursing Students Make History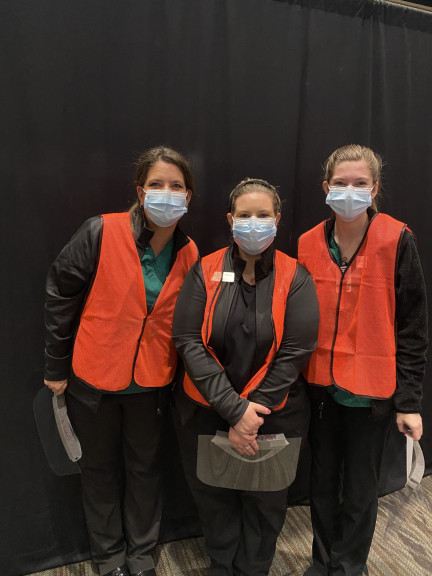 FOR RELEASE: Thursday, December 17, 2020
HUNTINGTON, Ind. — Huntington University's Department of Nursing students and faculty are pleased to participate in the facilitation of the COVID-19 vaccine for frontline healthcare staff in northeast Indiana.
"This is an exciting time in the history of health care, and our aspiring nurses are being given the opportunity to be a part of that history," said Jodi Eckert, MSN, RN, CNE, assistant professor of nursing and director of nursing.
As part of the Indiana Department of Health vaccine distribution plan, Parkview Health was selected to receive one of the initial allotments of the Pfizer vaccine for COVID-19. With many of Parkview's clinical workers dedicated to patient care, Parkview Health requested the help of students and instructors at Huntington University to administer the vaccine.
"We are pleased to have the Huntington University student nurses and instructors step up to meet the needs of our community," said Judy Boerger, chief nursing executive, Parkview Health. "Their service is in the tradition of the nursing profession to answer the call when help is needed for the benefit of human kind."
The administration of the vaccine will take place at the Parkview Mirro Center for Research and Innovation in Fort Wayne.
Huntington University is a comprehensive Christian college of the liberal arts offering graduate and undergraduate programs in more than 70 academic concentrations. U.S. News & World Report ranks Huntington among the best colleges in the Midwest, and Forbes.com has listed the university as one of America's Best Colleges. Founded in 1897 by the Church of the United Brethren in Christ, Huntington University is located on a contemporary lakeside campus in northeast Indiana. The nonprofit university is a member of the Council for Christian Colleges and Universities (CCCU).