HU Receives Gift for Strauss Animal Center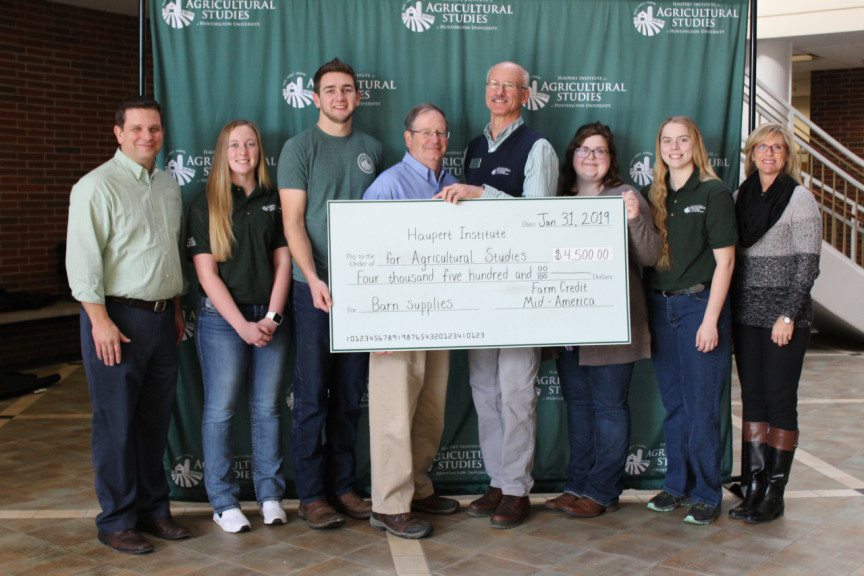 FOR RELEASE: Sunday, January 12, 2020
HUNTINGTON, Ind. — Huntington University's Haupert Institute for Agricultural Studies has received a $4,500 gift from Farm Credit Mid-America that will provide resources for the Don Strauss Animal Science Education Center.
"This generous donation will be put towards educating our students in animal agriculture, especially through increasing experiential learning of animal production," said Dr. Jessica Baggerman, assistant professor of agriculture. "Hands-on experience is invaluable to the education of agriculture students, and this support will allow for expanded opportunities for students to gain knowledge."
The Don Strauss Animal Science Education Center will provide space for agriculture students to expand their firsthand knowledge of livestock in the agriculture industry. This most recent gift toward animal science education at Huntington University will benefit all agriculture students with a livestock component in their program.
To learn more about agriculture at Huntington University, visit huntington.edu/Ag.
Huntington University is a comprehensive Christian college of the liberal arts offering graduate and undergraduate programs in more than 70 academic concentrations. U.S. News & World Report ranks Huntington among the best colleges in the Midwest, and Forbes.com has listed the university as one of America's Best Colleges. Additionally, Princeton Review has named the institution a "Best Midwestern College." Founded in 1897 by the Church of the United Brethren in Christ, Huntington University is located on a contemporary, lakeside campus in northeast Indiana. The non-profit university is a member of the Council for Christian Colleges and Universities (CCCU).