Huntington University announces Peoria, AZ location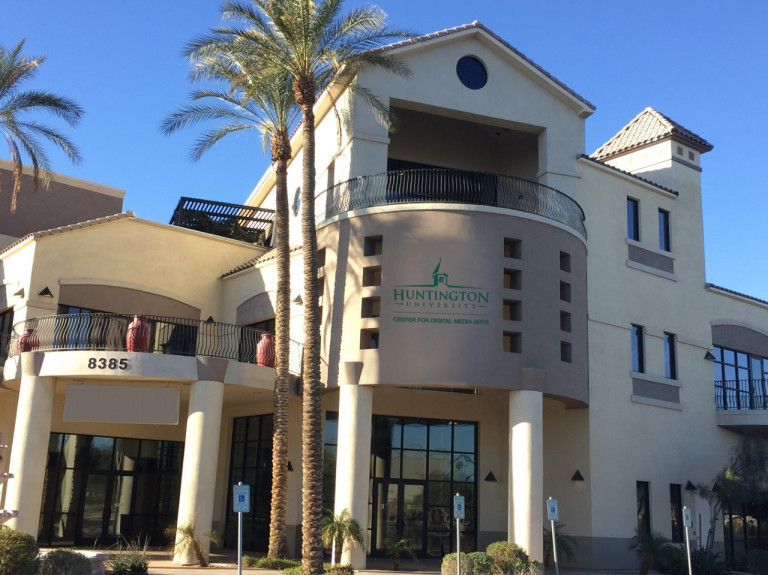 FOR RELEASE: Friday, February 26, 2016
Following Thursday's approval from the Arizona Board of Private Postsecondary Education, Huntington University will open an additional location in Peoria, Arizona.
"The opportunity to provide quality undergraduate degrees in an emerging STEM technology fields of media, animation and design, known as the digital media arts, aligns clearly with the mission of Huntington University. We commend the city of Peoria and its surrounding community for their enduring efforts to recruit our institution to Arizona and we are beyond excited about the economic opportunities our graduates will bring to the creative and innovative sector of industry in this region," stated university president, Dr. Sherilyn Emberton.
Huntington University has leased a 30,000 square foot building in the West Valley that will house bachelor's degree programs in digital media arts. The three-story structure is located off West Mariners Way and 83rd Avenue in Peoria, provides free parking, and is
within a short walking distance of nearby restaurants, entertainment venues, and student housing apartments.
The comprehensive program will initially offer majors in film production, broadcastfusion media, and graphic design and all will be housed within the same building. The facility will feature film and TV studios, two high-end computer classroom/labs, private edit suites, state-of-the-art TV control room, Foley pit, a host of EFP and Cinema cameras, and lighting gear for student production work. Upon completion of their degrees, some of the career choices available to students will be motion picture production, editing, audio/studio recording, podcasting, broadcast journalism, sports broadcasting, commercial graphic artist, or media specialist.
"We are truly excited to serve students who are interested in being part of a creative, Christ-centered, collegiate community, said Jeff Berggren, Huntington's director of Arizona operations. "Offering several integrated digital media bachelor degree programs under one roof is one unique aspect of Huntington's approach to higher education. For example, students can major in one area such as film and easily expand their skills by taking elective courses in graphic design."
Huntington plans to have the program ready to begin classes for the fall semester. To learn more about Huntington University and its digital media arts program, visit huntington.edu/peoria. Employment opportunities for teaching and support positions are posted at huntington.edu/human-resources/employment.