Huntington University Arizona Expands Doctoral Program in Occupational Therapy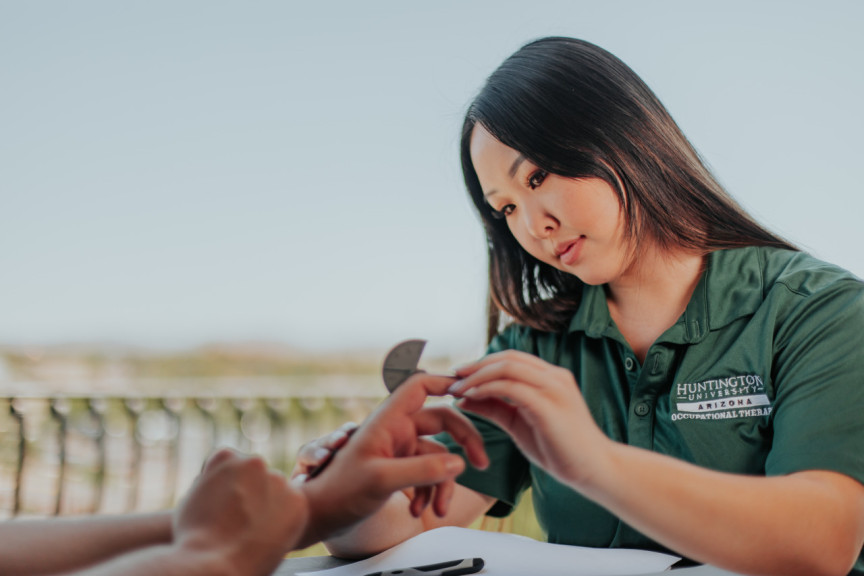 FOR RELEASE: Monday, October 23, 2023

Bridge Program Launches for Occupational, Physical Therapy Assistants

PEORIA, Ariz. — Occupational therapy assistants (OTA) and physical therapy assistants (PTA) now
have the opportunity to continue their education at Huntington University Arizona through the
Doctoral Program in Occupational Therapy (OTD) – OTA/PTA to OTD Bridge, a program designed
for busy professionals seeking career advancement.

"The OTD faculty and I are excited to be able to offer this opportunity for practicing OTAs and
PTAs," said Dr. Evelyn Andersson, program director for OTD Arizona. "Since the start of our OTD
program, we have received many inquiries about offering a bridge program. We believe our program
will be a great opportunity for OTAs and PTAs who want to build on their extensive clinical experience
to pursue a doctorate in occupational therapy."

This doctoral program, which has received accreditation from the Accreditation Council for
Occupational Therapy Education and the Higher Learning Commission and licensure from the
Arizona State Board for Private Postsecondary Education, builds on HU Arizona's current strengths in
healthcare education, opening doors for OTAs and PTAs to pursue a doctoral degree in occupational
therapy.

The OTA/PTA to OTD Bridge program follows the same rigorous curriculum as the existing
Doctoral Program in Occupational Therapy. This ensures all students receive a comprehensive and
high-quality education, whether in the traditional or bridge cohort, while meeting the unique needs of
individuals with prior experience as OTAs or PTAs.

Key features of the new program include:
1. Nine-Semester Duration: Unlike the traditional program, which is completed in eight
semesters, the bridge program spans nine semesters to help students balance their academic
and professional responsibilities.
2. Online Learning: Didactic content is delivered through the user-friendly Moodle teaching
platform, allowing students to access course materials conveniently.
3. In-Person Labs: To enhance practical skills and ensure a well-rounded education, students in
the bridge program will gather in person for three weekends per didactic semester. These
weekends will include laboratory sessions, practical exams, and presentation skills training, all
delivered by experienced HU Arizona OTD faculty.

Admission criteria for the Doctoral Program in Occupational Therapy – OTA/PTA to OTD Bridge
are as follows:
● Graduate with an associate degree as an occupational or physical therapy assistant
● Initial certification as an occupational therapy assistant or successful completion of the
National Physical Therapy Examination or a state-specific exam for physical therapy assistants
● One year of experience as an occupational therapy assistant or physical therapy assistant
● Completion of 90 undergraduate credits or a bachelor's degree with a minimum of a 3.0
cumulative undergraduate GPA
● Attainment of a grade of B- or higher in all prerequisite courses, which may be met from the
OTA or PTA associates degree programs
● Prerequisite courses, including Anatomy and Physiology I with Lab, Anatomy and Physiology
II with Lab, Lab Science (Biology, Physics, or Chemistry), Introduction to Psychology,
Abnormal Psychology, Social Science, Statistics or Research, and Medical Terminology
Expanding educational offerings underscores Huntington University's commitment to advancing
healthcare education and ensuring students from diverse backgrounds and experiences access
high-quality learning opportunities.
The inaugural cohort of the Doctoral Program in Occupational Therapy – OTA/PTA to OTD Bridge
begins in January 2024.
To learn more about the Doctoral Program in Occupational Therapy – OTA/PTA to OTD Bridge,
visit huntington.edu/OTDBridge or request information here.