Huntington University Celebrates Employees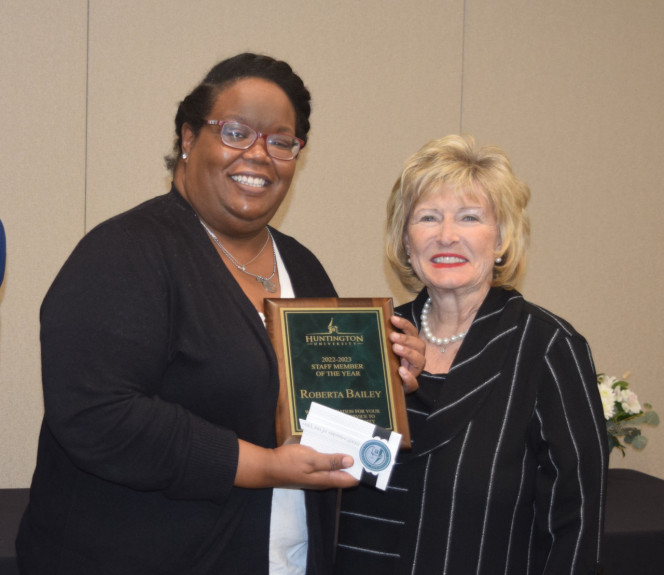 FOR RELEASE: Monday, May 8, 2023
Each spring at its Celebration of Service, Huntington University honors employee milestones and names the Staff Member of the Year. This year, the event was held on May 2 and recognized the following individuals for reaching significant career milestones:
5 Years of Service
Aaron Baker
Deborah Fitzcharles
Jay LeBlanc
Nicole Manges
Natalie Porter
Jeanne Sowers
Kandra Tenuto
Christian Washington
10 Years of Service
Jason Boothman
Sherilyn Emberton
Shoshannah Hernandez
Collin Hobbs
Nancy Richison
Adam Skiles
20 Years of Service
25 Years of Service
Jeff Lehman
Sandy Marion
Michael Rowley
30 Years of Service
35 Years of Service
40 Years of Service
Additionally, the 2023 Staff Member of the Year Award was given to Roberta Bailey, assistant director of admissions and transfer relationships. This is a peer-nominated award that recognizes an employee for dedication to this University and her Foresters. But beyond that, it is a public acknowledgment that this individual represents what it means to be a Forester. A Forester chases truth, defies complacency, remains curious, cares completely, embraces interconnectedness, has grit and explores creativity, and a nomination for this award is a statement that says, "This person IS a Forester."
Huntington University is a comprehensive Christian college of the liberal arts offering award-winning graduate and undergraduate programs in more than 70 academic concentrations. Founded in Huntington, Indiana, in 1897 by the Church of the United Brethren in Christ, Huntington University has over a century of experience educating graduates who are ready to impact the world for Christ through scholarship and service. The nonprofit university operates at three academic locations, including the original home campus in Huntington, a doctoral program in occupational therapy location in Fort Wayne, Indiana, and an undergraduate and doctoral program location in Peoria, Arizona. Online programs are also available. Huntington University's home campus offers 17 men's and women's athletic programs, and the university is a member of the Council for Christian Colleges and Universities (CCCU).