Huntington University names student life deans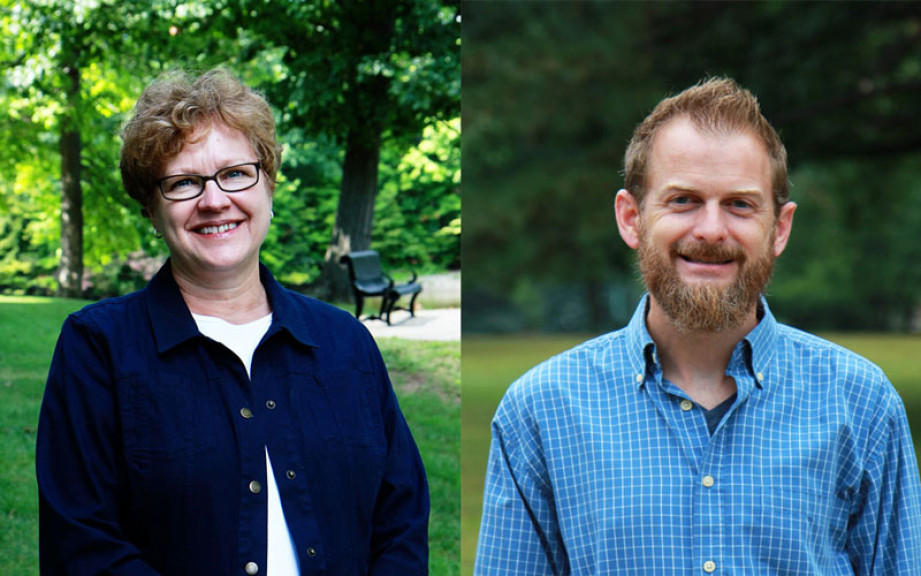 FOR RELEASE: Thursday, October 6, 2016
Huntington University has announced that it has promoted Jesse Brown to Dean of Students and Martha Smith to Dean of Student Services. Both promotions are effectively immediately.
"Jesse and Martha have a strong commitment to professional development and are well read in their respective fields. The division of Student Life at Huntington University has been greatly enriched over time as a result of their numerous contributions as student development professionals. As vice president, I have come to value their wise counsel and trust in their expertise," stated Dr. Ron Coffey, vice president of student life.
Brown has been with Huntington University since 1999. After graduating from Valley Forge Christian College with a bachelor's degree in Bible and from Eastern College with a master's degree in counseling, Brown moved to Huntington, Indiana, and began working at the university as the resident director of Meadows/Miller Halls and coordinator of student activities. After serving in this role for four years, he became the associate dean of student development which meant he had oversight of all campus residence halls. Beginning in the fall 2012, Brown became the director of the Horizon Leadership Program which is a minority scholarship program in collaboration with Youth for Christ, USA. Brown has also served as the chair of the Diversity Task Force and has developed a spring semester course, "Conversations About Race" with the help of Dr. Kevin Miller and Rev. Keith Reynolds. Brown is currently pursuing a Ph.D. in Higher Education Administration at Indiana State University.
"This recognition was unexpected. I am grateful for Dr. Emberton and Dr. Coffey's confidence in my ministry and leadership. I appreciate the many Student Life staff, students and colleagues that make my 16 years at HU so meaningful. I look forward to the future as we work together to serve the Kingdom," stated Brown.
Smith joined the Huntington University staff in 1988 as resident director for Hardy Hall. She later served as Director of Career Development and in 1995 was promoted to assistant dean of students. Prior to her promotion, Smith was the associate dean of student life and oversaw career and counseling services and new student orientation. Smith holds a Bachelor of Arts degree from Bowling Green State University and a Master of Science degree from Indiana University. Smith is recognized as a national leader in student development. She has served as vice president for the Association for Christians in Student Development and is a frequent workshop speaker. In 2005, she received the Don L. Boender Award recognizing her for distinguished service in the field of student development. Smith is also a National Certified Master Career Counselor, a Licensed Mental Health Counselor and member of the American Counseling Association and American Association of Christian Counselors. Smith has worked with undecided students to help them select an academic major and also provides assistance to upper classmen preparing for graduate school and job searches.
Smith stated, "I am very honored to serve the students at Huntington University and work alongside such great faculty and staff."