Huntington University's PLEX Project Receives $100K Gift from Bippus State Bank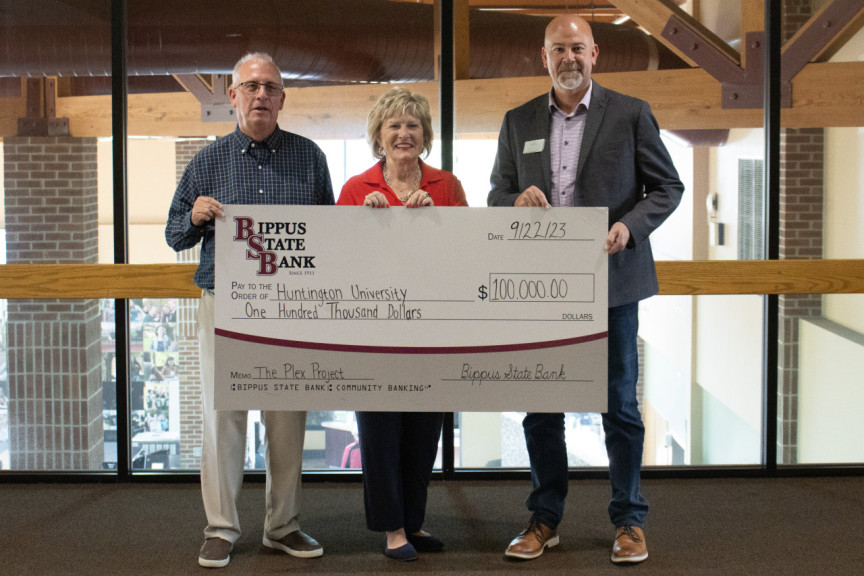 FOR RELEASE: Wednesday, October 4, 2023
HUNTINGTON, Ind. — Huntington University has received a $100,000 gift toward the transformation of the Merillat Complex & Fieldhouse (PLEX) from Bippus State Bank.
"A strong and vibrant University is key to our local economy," said Eric Fawcett, president and chief executive officer of Bippus State Bank. "Huntington University and Bippus State Bank have partnered together numerous times over the years. Both of our institutions know the importance of collaboration, and that collaboration is vital to both of our successes going forward."
He continued, "This gift shows our commitment to not only the University but to our community. The bank is grateful for the opportunity to financially assist with this project. The newly renovated PLEX will certainly be something our entire community can be proud of."
Work began on the PLEX transformation in 2022. The $18.7 million project will upgrade the 90,000-plus-square-foot facility to a best-in-class venue. Once complete, the PLEX will feature three large arena and gym spaces, substantially expanded weight and cardio areas, a large entry lobby, hospitality suites, a pro shop, a hall of fame and larger classrooms, serving not just Huntington University student-athletes but all HU students and the greater Huntington community.
"We are grateful for the significant support of Bippus State Bank," said Stephen Weingart, vice president for university advancement. "The community aspect of the PLEX project makes support from community partners all the more significant for Huntington University."
To learn more about the PLEX project or to be a part of the PLEX campaign, visit www.huntington.edu/PLEX.
About Huntington University
Huntington University is a comprehensive Christian college of the liberal arts offering award-winning graduate and undergraduate programs in more than 70 academic concentrations. Founded in Huntington, Indiana, in 1897 by the Church of the United Brethren in Christ, Huntington University has over a century of experience educating graduates who are ready to impact the world for Christ through scholarship and service. The nonprofit university operates at three academic locations, including the original home campus in Huntington, a doctoral program in occupational therapy location in Fort Wayne, Indiana, and an undergraduate and doctoral program location in Peoria, Arizona. Online programs are also available. Huntington University's home campus offers 17 men's and women's athletic programs, and the university is a member of the Council for Christian Colleges and Universities (CCCU). For more information, visit the website www.huntington.edu.
About Bippus State Bank
Bippus State Bank is a community bank that creates meaningful customer relationships, fosters employee development and maintains shareholder confidence by providing premium financial products and services. For more information, visit the website www.bippusbank.com.