HU's Haupert Ag Institute receives AFA Growth Initiative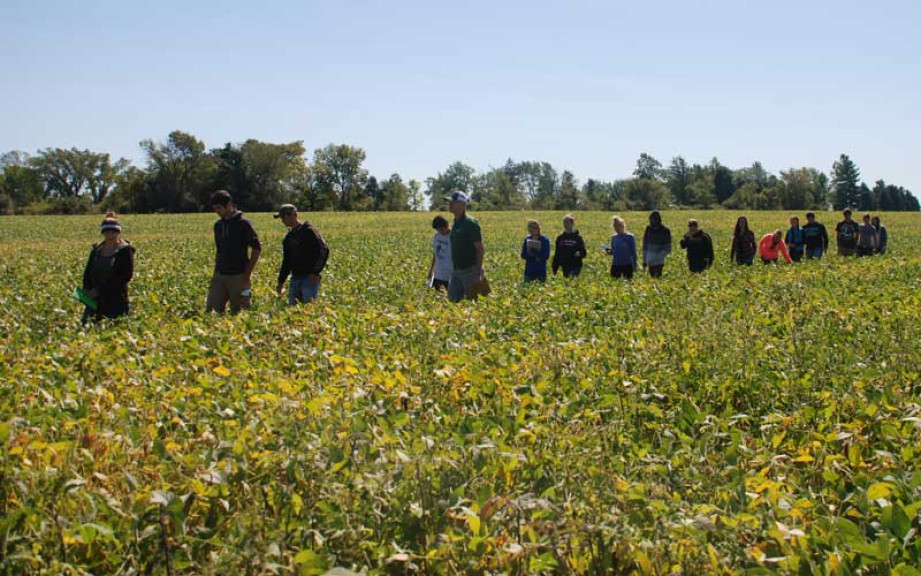 FOR RELEASE: Monday, October 23, 2017
Huntington University's Haupert Institute for Agricultural Studies has been selected as one of six schools in the U.S. for Agriculture Future of America's (AFA) University Growth Initiative.
Along with HU, the 2017 class also includes Tennessee State University; University of Maryland, College Park; Murray State University; University of Tennessee at Martin; and Texas A&M University. As a University Growth Initiative school, each university receives funding to send three students and a member of the faculty or administration to the 2017 AFA Leaders Conference beginning November 2 in Kansas City, Missouri.
"We are thrilled with this opportunity to connect our students with the AFA, which is one of the premier organizations in the arena of leadership development of agriculture students at the collegiate level," stated Dr. Raymond Porter, Director of the Haupert Institute for Agricultural Studies.
Porter will be traveling not only with the three students covered by the University Growth Initiative, but also two additional HU students who applied and were accepted to go to this conference. HU agriculture students attending the conference for the first time are Karley Hockemeyer (Decatur, Indiana), Makayla Mobley (North Manchester, Indiana), Rebekah Peterson (Monticello, Illinois), Bailey Rothrock (Monticello, Indiana), and Megan Schroeder (Albion, Indiana). In addition, Madison Riley (Goshen, Indiana) will be attending the Leaders Conference for a second time as Huntington University's AFA Ambassador and as a recipient of an AFA Leader Fellowship.
Since 1996, AFA has provided scholarships and leader training to collegiate students pursuing careers in agriculture. AFA's anchor personal and professional development event is AFA Leaders Conference. Held each year in Kansas City, Missouri, this program draws 800 top agriculture students from across the nation. The University Growth initiative, supported by Monsanto Company and CHS Foundation allows AFA to expand its collegiate relationship base each year by allowing new schools to enter their top student leaders into AFA leader development programs.
"We are thrilled to develop stronger AFA relationships with the eleventh class of University Growth Initiative awardees," said Ashley Collins, AFA Director of Collegiate Relations. "True to our mission, each of these campuses demonstrated, through their applications, commitment to building bridges for their student leaders by identifying opportunities such as AFA's leader development programs."
The Conference program focuses on personal and professional skill development to complement what is provided on campus and in the classroom. As a four-track program, Conference offers four different learning opportunities, paralleling the student's year in college. The AFA Opportunity Fair, held in conjunction with Conference, connects students to internship, job, study abroad and graduate school opportunities. For more information, visit www.agfuture.org/conference.
The Haupert Institute for Agricultural Studies opened in the fall of 2015 and promotes a Christian perspective on agriculture, which recognizes the responsibility to be good stewards of God's creation and to examine questions of sustainability and justice. The institute is intended to help meet the growing need for agriculture professionals and offers eight concentrations in agribusiness as well as an agricultural education degree.