January 2021 White Coat Ceremony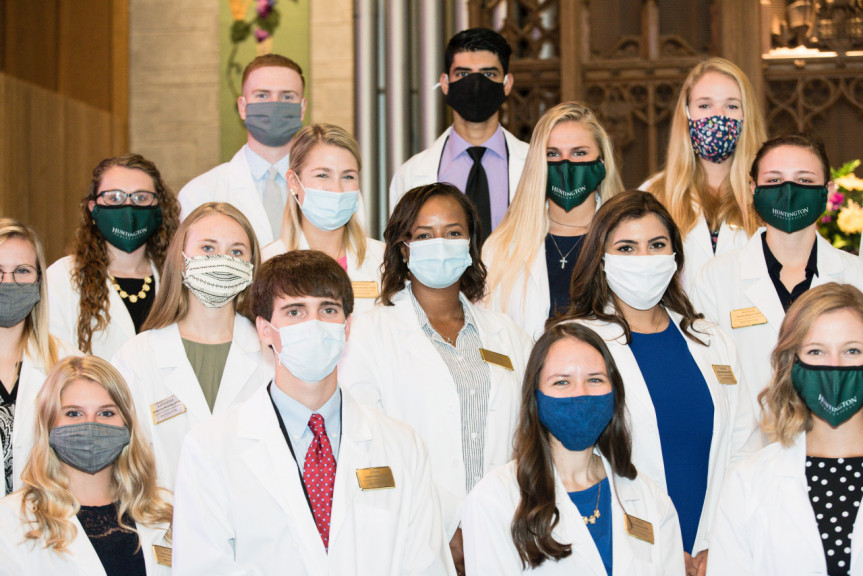 FOR RELEASE: Thursday, January 14, 2021
HUNTINGTON, Ind. — Huntington University's January 2021 Doctoral Program in Occupational Therapy (OTD program) class will be welcomed into the occupational therapy profession on January 22 with a White Coat Ceremony. This event will be a joint experience for HU's Fort Wayne-based doctoral program in occupational therapy cohort and the inaugural HU Arizona doctoral program cohort. The event will take place at 1:00 p.m. (MST) and 3:00 p.m. (EST) and will stream live via YouTube.
The White Coat Ceremony signifies each student's commitment to deliver the best care to their patients, with compassion and empathy as the hallmark of their clinical practice. HU's occupational therapy program equips students for professional service, promoting the development of skills in leadership, advanced practice, and research while encouraging growth in faith.
Huntington University's OTD program was one of the first of its kind in the country, and HU's occupational therapy assistant program is the first bachelor's-level program in the country. Occupational therapy was the first doctoral program offered at Huntington University and has been graduating impressive cohorts of students since May 2017.
Huntington University is a comprehensive Christian college of the liberal arts offering graduate and undergraduate programs in more than 70 academic concentrations. U.S. News & World Report ranks Huntington among the best colleges in the Midwest, and Forbes.com has listed the university as one of America's Best Colleges. Founded in 1897 by the Church of the United Brethren in Christ, Huntington University is located on a contemporary lakeside campus in northeast Indiana. The nonprofit university is a member of the Council for Christian Colleges and Universities (CCCU).