Reynolds Farm Equipment CEO Featured Speaker at Annual Harvest Celebration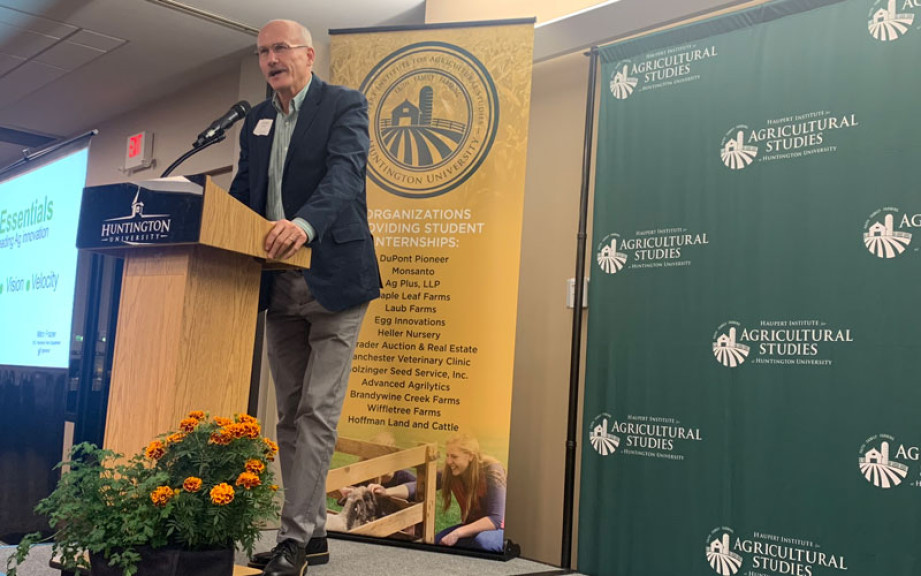 FOR RELEASE: Wednesday, December 12, 2018
On November 29, the Haupert Institute for Agricultural Studies hosted its third annual Harvest Celebration in Huntington University's Habecker Dining Commons. Mitch Frazier, chief executive officer of Reynolds Farm Equipment, was the featured speaker at the event.
Reynolds Farm Equipment began providing agricultural equipment in Fishers, Indiana, in 1955. Since then, the business has expanded to include locations throughout Indiana and in Kentucky and Ohio and has become a leading equipment dealer, serving homeowners, farmers and more. Mitch Frazier was the chief marketing officer at Reynolds before being named CEO in 2017.
"This year, we topped attendance records and continue to attract more regional voices in the agribusiness community," said Dr. Sherilyn Emberton, president of Huntington University. "We are honored to host Mitch as our guest speaker. He represents the integration of agriculture and technology in providing our farming industry with emerging tools for use in crop and animal production."
Frazier's presentation focused on historic waves of innovation in the agriculture industry. He described how key developments in modern technology have had a significant impact on agribusiness. To continue to innovate farming and other areas of agriculture, Frazier believes it is important for agriculture professionals to develop three essentials: vocation, vision and velocity.
In addition to Frazier's keynote address, the Harvest Celebration included a complimentary dinner, a recognition of the Haupert Institute's sponsors and remarks from current Huntington University agribusiness students and members of the Ag Advisory Council.
"The purpose of this event is to celebrate ag in our region, highlight the department, and connect with businesses and individuals in our area that are in the ag industry," said Kay Schwob, interim director of advancement at Huntington University.
Sponsors for the event included Ag Plus, Beacon Credit Union, Caley Farms, Inc., the Dale and Elaine Haupert Family Foundation, Halderman Farm Management, Lake City Bank, Midwest Poultry, Schrader Real Estate & Auction, Strauss Veal Feeds, Inc., and Troxel Equipment Company.
The Haupert Institute for Agricultural Studies opened in the fall of 2015 and promotes a Christian perspective on agriculture which recognizes the responsibility to be good stewards of God's creation. The Institute is intended to help meet the growing need for agriculture professionals and offers eight concentrations in agribusiness as well as an agricultural education degree.