Road to Restoration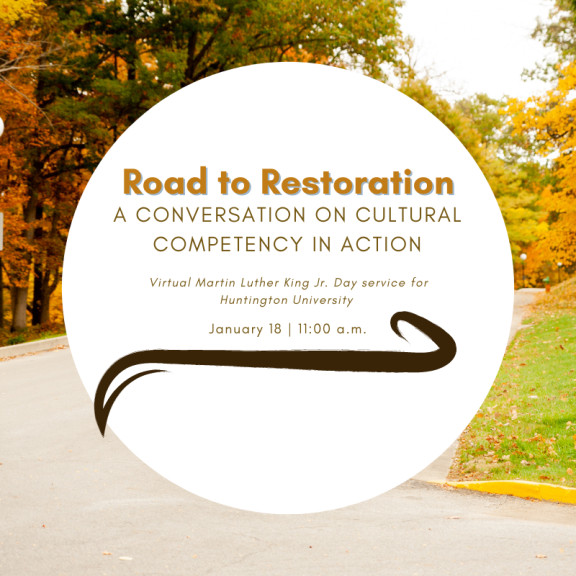 FOR RELEASE: Thursday, January 14, 2021
HUNTINGTON, Ind. — Huntington University is pleased to welcome Ray Chang, ministry associate for discipleship at Wheaton College, and Michelle Loyd-Paige, executive associate to the President for Diversity and Inclusion at Calvin University, as panelists for Huntington University's 2021 Martin Luther King Jr. Day Convocation on January 18. Chynna Presley, director of intercultural enrichment at Huntington University, will join Chang and Loyd-Paige on the panel as they discuss "The Road to Restoration — A conversation on cultural competency in action."
As Huntington University strives to educate and prepare students for a world riddled with a variety of pandemics and spiritual adversities, it's important to seize the opportunity to draw students' attention to the significance of protecting the truth they glean while navigating through Christian higher education.
"I believe that the HU community is primed for such a time as this to focus on safeguarding the treasures that God has given us through His spoken Word," said Presley. "Our University is committed to being a culturally competent institution. As we continue to examine our policies and practices, we are working to ensure that all we do aligns with our Declaration of Unity & Diversity, which states, '…Therefore in obedience to Christ and as Foresters, we will love, learn from, respect, stand alongside, protect, rejoice with, and grieve with one another. We reject biased apathy, willful ignorance and silent fear. We acknowledge our fallen nature and the failures that divide us; therefore, we seek God's grace and mercy and we strive to embody the example of Christ. It is our purpose and responsibility to foster an environment that reflects the unity of the Boy of Christ and honors the eternal value of all people.'"
Huntington University is a comprehensive Christian college of the liberal arts offering graduate and undergraduate programs in more than 70 academic concentrations. U.S. News & World Report ranks Huntington among the best colleges in the Midwest, and Forbes.com has listed the university as one of America's Best Colleges. Founded in 1897 by the Church of the United Brethren in Christ, Huntington University is located on a contemporary lakeside campus in northeast Indiana. The nonprofit university is a member of the Council for Christian Colleges and Universities (CCCU).