Spirit of Forester Scholarship Competition Winner Announced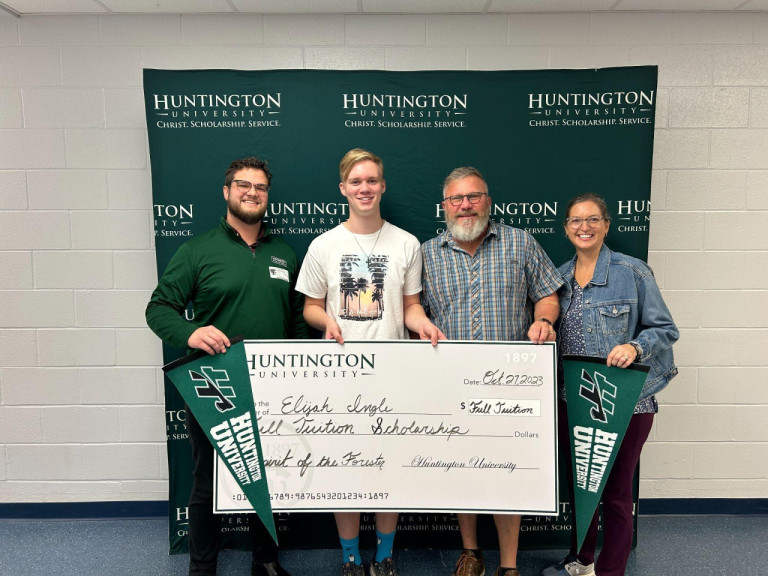 FOR RELEASE: Tuesday, November 7, 2023
Huntington University Announces Spirit of a Forester
Scholarship Competition Winners
Ingle awarded top scholarship

HUNTINGTON, Ind. — On October 20-21, Huntington University hosted its third Spirit of a
Forester Scholarship Competition. The competition included an onsite extemporaneous essay and an
interview with faculty and staff.

As a result of the competition, Huntington University awarded scholarships ranging from full tuition
to $16,000. The recipient of the full tuition scholarship is Elijah Ingle from Bluffton, Indiana.
Additional scholarship recipients include the following:

● Claire Benton; Lowell, Indiana
● Gabrielle Brown; Detroit, Michigan
● Addie Conner; Greentown, Indiana
● Elizabeth Feiock; Brownsburg, Indiana
● Elnora Flores; Bremen, Indiana
● Gracie Gilbert; Garrett, Indiana
● Grace Hammond; Columbia City, Indiana
● Hailey Hardesty; Valparaiso, Indiana
● Cole Hively; Middlebury, Indiana
● Dakota Hudson; Fort Wayne, Indiana
● Annabelle Johnson; Bluffton, Indiana
● Emily Karcher; Van Wert, Ohio
● Lynlee Malkey; Winchester, Indiana
● Lorin Miller; Columbia City, Indiana
● Lillian Norris; Ossian, Indiana
● Ali Riley; Markle, Indiana
● Theoren Twitchell; Elkhart, Indiana
● Kierra Wilson; Wabash, Indiana

For more information about upcoming Spirit of a Forester Scholarship Competition events, visit
huntington.edu/Admissions or email admissions@huntington.edu.