Teachers Flock to Campus for AITC Summer Workshop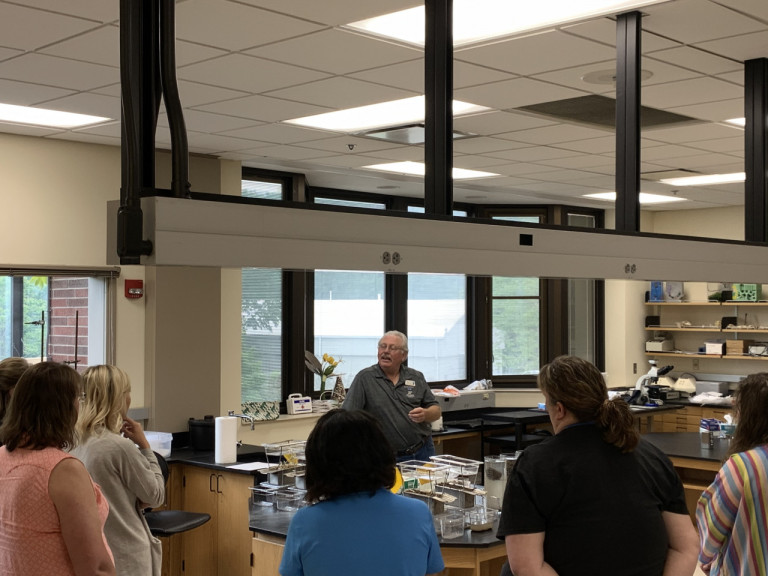 FOR RELEASE: Tuesday, June 15, 2021
Huntington University was pleased to be a host site for the 2021 Agriculture in the Classroom (AITC) Summer Workshop on June 1, 2021.
AITC is an agricultural outreach program for school children in grades Pre-K through 12, facilitated by Indiana Farm Bureau and coordinated nationwide by the United States Department of Agriculture. The program teaches students where the food they eat is grown and how important farmers are to their daily lives. The June 1 AITC Summer Workshop offered a variety of learning opportunities for volunteers and educators and was hosted by some of HU's own faculty and alumni.
"I appreciated the opportunity to participate in a variety of program topics as well as the flexibility to apply information learned across multiple grade levels. It was also great to visit with other educators and volunteers that have a passion to tell agriculture's story to our future consumers. The afternoon hands-on learning sessions offered valuable tools to add to project-based curriculum development," said Kelley Sheiss, agriculture instructor at Whitko Career Academy.
Sheiss also mentioned that the day allowed a chance to recharge after a long school year and spark inspiration. "It offered additional resources for classroom instruction and the chance to connect and collaborate with other participants, allowing for idea and information exchange. Huntington University [Department] of Agriculture served as an ideal location for the event, allowing us to take advantage of the many resources their program and campus facilities have available."
Workshops included "Conducting a 'Pet Plant Project'" with Natalie Porter, greenhouse and lab manager, "Helping Students Think about GMOs" with Dr. Raymie Porter, associate professor of agriculture and director of academic programs for the Haupert Institute for Agricultural Studies, and "Erosion — Battling the Age-Old Menace" with Joelle Neff, Class of 2020.