'The Last Apostle' Premieres at Huntington University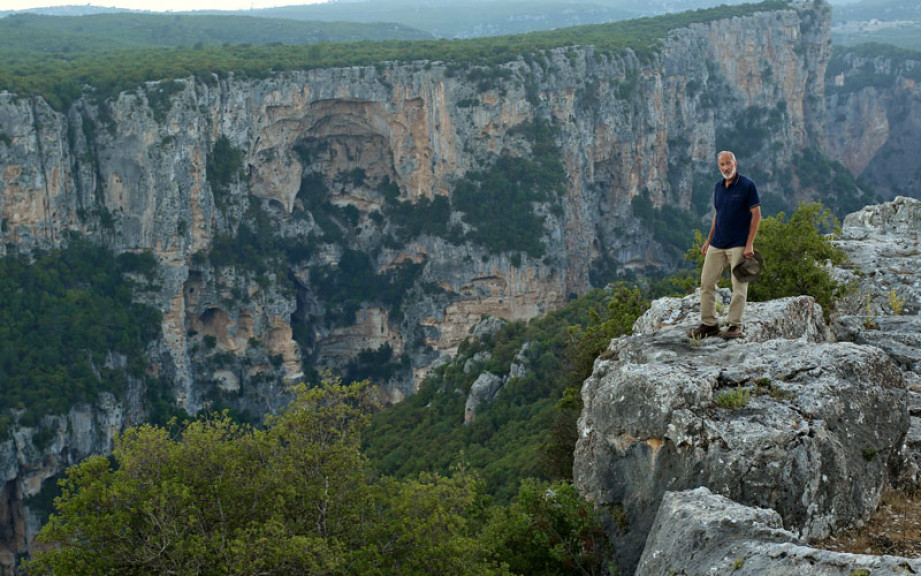 FOR RELEASE: Monday, November 11, 2019
Raiders of the Lost Ark had Indiana Jones, but The Last Apostle has Indiana Mark. Most know him as Dr. Mark Fairchild, professor of Bible and religion at Huntington University, but his breakthroughs as a world-renowned archeologist might make the former name more fitting. On November 19, Huntington University is pleased to host the premiere of The Last Apostle, a full-length documentary that follows Dr. Fairchild as he explores ancient Turkey. In his more than 20 years of exploration, Dr. Fairchild has discovered several previously lost cities as well as his crowning achievement, the oldest synagogue in the world. The documentary is the work of Huntington University alumni Logan Bush and Matt Whitney, who served as producers and traveled with Fairchild to Turkey and Cyprus.
As children, Bush and Whitney were inspired by the adventures of Indiana Jones but were disappointed "that no real Indiana Jones walked dusty roads and explored ancient tombs, looking for lost treasures."
And then they met Dr. Fairchild and felt like they met their childhood cinematic idol.
Dr. Fairchild has spent over 20 years exploring Turkey, Israel, Jordan, Greece and Egypt. He can read ancient Hebrew, Greek, and Aramaic. He has trekked into the jungle to discover ancient cities and hidden ruins. He unearthed the oldest synagogue in the world.
Bush and Whitney agree that "if all that doesn't convince you that this legend of a man is a walking embodiment of Indiana Jones, he actually hails from Indiana, where he teaches archeology, language, and theology."
Logan Bush graduated from Huntington University in 2015 with a degree in film production. Since then, he has worked for Paramount Pictures, an Amazon Prime series and independent films. Bush is currently a freelance editor, sells stock photography and periodically produces travel videos around the Holy Lands for Tutku Tours.
Matt Whitney graduated from Huntington University in 2015 with a degree in film production. After graduation, he briefly worked in Los Angeles as a production accountant before returning to the Midwest to film his debut feature film 4.0.
Most recently, Whitney directed the original musical comedy Moondance, which is scheduled for a limited theatrical release March 13, 2020.
Dr. Fairchild received his PhD in New Testament Studies from Drew University. He also completed PhD coursework at Union Theological Seminary (NY) and Princeton Theological Seminary. Dr. Fairchild has twice received research grants from the National Endowment for the Humanities. Fairchild's recent discovery of two previously unknown ancient synagogues in Turkey (including the world's oldest known synagogue) was published in the Biblical Archaeology Review in 2012. Research at this ancient synagogue was also published in the Journal of Ancient Judaism in 2014. The Biblical Archaeology Review also published Fairchild's research on St. Paul's first mission from Perga to Antioch (2013) and another article on the biblical city of Laodicea (2017). Fairchild's book on Christian Origins in Ephesus and Asia Minor (originally published in 2015) has been expanded, and a second edition is currently available with Hendrickson Publishers (2017).
The Last Apostle will premiere at Huntington University in Zurcher Auditorium in the Merillat Centre for the Arts on November 19 at 7:00 p.m. A Q&A with the filmmakers and Dr. Fairchild will follow. This event is free and open to the public.