Vance Named NACCAP Rookie of the Year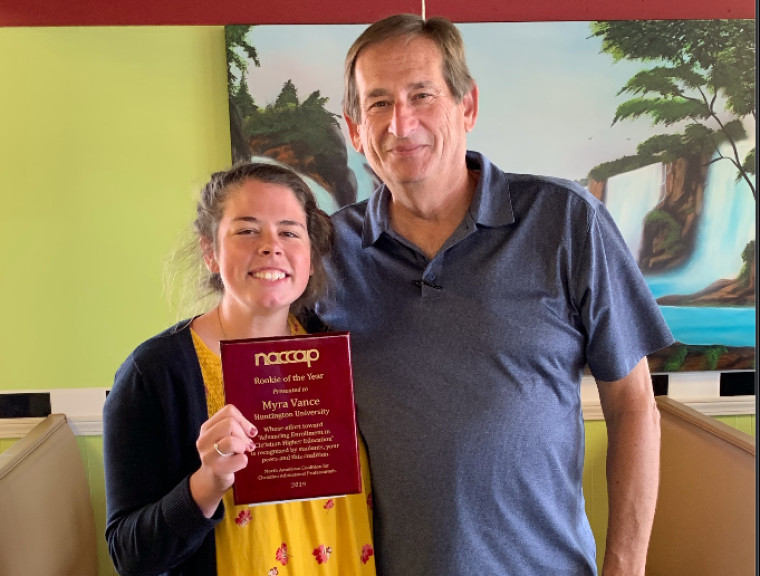 FOR RELEASE: Tuesday, July 23, 2019
The North American Coalition for Christian Admissions Professionals (NACCAP) has announced that the 2018-19 NACCAP Rookie of the Year is Myra Vance, Huntington University admissions counselor.
"We are thrilled to recognize Myra Vance's exceptional service to students and her co-workers at Huntington University," said Chant Thompson, executive director of NACCAP. "Myra exemplifies a humble spirit, an enthusiastic love for people, a commitment to hard work, a Christ-like attitude and a faithful walk with Jesus as she encourages and empowers others."
NACCAP seeks to acknowledge outstanding effort to advance higher education and enhance the students recruited to NACCAP member schools, including Huntington University. They chose to recognize Vance for this award in part because she has demonstrated committed Christ-centered servant leadership in all that she does, a trait her coworkers at HU have noticed as well.
"Myra is well-deserving of this recognition," said Susanne Watson, director of undergraduate admissions at Huntington University. "The love and passion with which she serves her students is inspiring. Her heart for others is evident in everything she does. As a first-year admissions counselor, Myra made an immediate impact on our admissions team, and we are so proud that she is being recognized nationally as NACCAP Rookie of the Year!"
Thompson also points to Vance's ability to engage visiting students as a valued quality in a Rookie of the Year.
"Myra engages well with prospective students and their families as they are exploring the educational opportunities available to them at Huntington University," said Thompson. "NACCAP seeks to identify award recipients who care for prospective students with excellence. Myra's coworkers and NACCAP acknowledge her contribution to advancing the needs of others as she has served at Huntington University."
Located in Huntington, Indiana, NACCAP is in its 49th year of service in Christian higher education. NACCAP's mission is to be a leading and innovative organization recognized for effectively serving and engaging its members by providing professional development and initiatives that champion the cause for Christian education.