Watson Receives Outstanding Achievement Award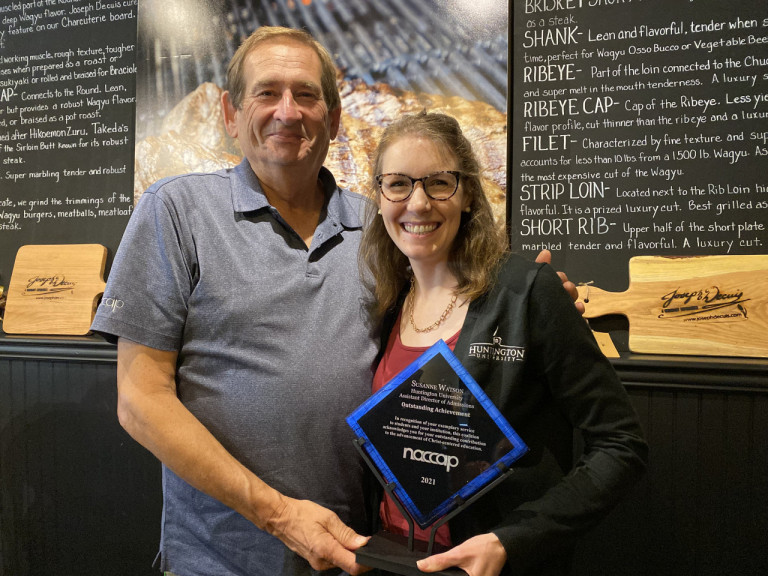 FOR RELEASE: Friday, August 6, 2021
Huntington University is pleased to announce that Susanne Watson, director of undergraduate admissions, has been recognized with the North American Coalition for Christian Admissions Professionals' (NACCAP's) Outstanding Achievement Award. This award honors those who work diligently to advance the cause of Christian higher education and demonstrate a commitment to growing their institution.
"Susanne was nominated by her peers for being an enabler, a creative force within the office and one who comes alongside to help other team members be successful in pursuit in their goals and objectives," said Chant Thompson, executive director of NACCAP.
Danny Solms, vice president for enrollment management and marketing, concurred with this assessment, saying that "Susanne has a big heart; she genuinely cares for people and wants to see them succeed. You see that when she engages with prospective students and as a leader of her team. Susanne is also diligent and possesses strong administrative skills that she uses to make us more efficient and to strengthen the foundation of activity that supports us connecting with future students."
He credits Watson with being a big part of HU's record enrollment in 2020, stating that "she was here every day, constantly thinking about how we could connect with students and keeping the counselors up to date and encouraged as they worked from home. She created new programs to maximize our student workers and worked tirelessly to make the most of our technology."
"It is such an honor to receive an award from NACCAP, an organization that does so much to further Christian higher education and support Christian admissions professionals," said Watson. "I am humbled by the recognition, knowing that I have a great team around me here at Huntington University and that any accomplishments are a team effort. I'm proud to represent HU!"
Susanne Watson began working as an admissions counselor at HU in 2013. Prior to joining the Huntington team, she worked in enrollment at Harrison College for two years. She is a 2011 graduate of Huntington University with degrees in history and entrepreneurial small business management. She was named senior admissions counselor in 2015, assistant director of admissions in 2016 and director of undergraduate admissions in 2019.