Wilson and Yentes Claim Prominent History Prize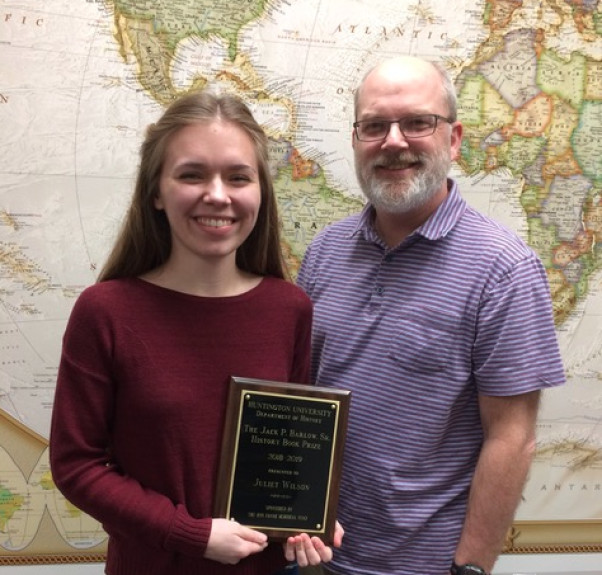 FOR RELEASE: Thursday, April 4, 2019
The Department of History and Political Science at Huntington University is pleased to announce that undergraduate students Juliet Wilson and Trent Yentes are winners of the 2018 Jack P. Barlow, Sr., History Book Prize.
Wilson, now a two-time book prize winner, is pursuing a degree in political science and international and development studies. She hails from Goshen, Indiana, and intends to graduate in May of 2020. Yentes, from Fairland, Indiana, is working toward a degree in history education. He expects to graduate in May of 2021.
"Trent and Juliet are committed students who demonstrate leadership in the classroom," said Dr. Jeffrey Webb, professor of history of Huntington University. "They take great pride in their work and consistently submit projects that reflect the best of their ability."
Each year, the Department of History and Political Science presents the Jack P. Barlow, Sr., History Book Prize to an outstanding student or students in the department's advanced research seminar. Webb's seminar in early American history focused on the development of democratic institutions and practices in the colonial period. For their project, Wilson and Yentes researched the design and early modification of Pennsylvania's schemes of provincial government.
Jack P. Barlow, Sr., served for over three decades as professor of American history at Huntington University. The history prize named in his honor carries a cash award funded by the Ron Frank Fund, which rewards academic achievement and student participation at professional academic conferences. The fund was established in 1973 in honor of Ron Frank, who passed away unexpectedly in the spring semester of his senior year at Huntington University.