Yoder Wins Department Awards at HU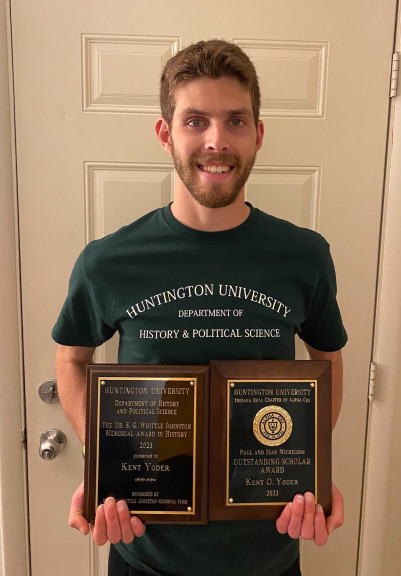 FOR RELEASE: Wednesday, May 31, 2023
The Department of History and Political Science at Huntington University is pleased to announce that Kent Yoder has won multiple department awards for the 2022-2023 academic year.
Yoder is from Shipshewana, Indiana, and graduated summa cum laude in spring 2023 with a Bachelor of Arts degree in history. The Department of History and Political Science distributes three different awards for academic achievement, and Yoder won all three — one of those twice.
Yoder received two Jack P. Barlow, Sr., Book Prizes. This prize is given to outstanding students in the department's upper-level writing- and research-intensive courses and carries an award of $250 in books. Yoder earned this distinction with performances in Dr. Dwight Brautigam's fall semester course European Reformations and Revolutions and his spring semester course Classics of Political Thought.
In addition to the Barlow Prizes, Yoder won the S.G. Whittle Johnston Memorial Award, given to the student who produced the most outstanding academic paper during the 2022 calendar year. Yoder's paper for European Reformations and Revolutions earned him this distinction. The Johnston award confers a $1,000 prize for the winner.
Brautigam said of Yoder, "He exhibits a work ethic and a commitment to excellence that will undoubtedly lead to success in his future endeavors."
The department also awards students in the top ten percent of their graduating class with the Ron Frank Memorial Award for Outstanding Scholarship, which confers a scholarship of $500 for postgraduate education. Yoder received this award and was also named Forester of the Year in history at the annual HU Forester Night celebration.
The Jack P. Barlow, Sr., Book Prize honors the memory of Professor Barlow, who served for over three decades as professor of American history at Huntington University. The Barlow Book Prize and the Ron Frank Award are sponsored by the Ron Frank Fund, which rewards academic achievement and student participation at professional academic conferences. The fund was established in 1973 in honor of Ron Frank, a former student at Huntington University.
The S.G. Whittle Johnston Memorial Award honors the memory of S.G. Whittle Johnston and was established by an HU history alumna to honor the memory of this alumna's graduate school mentor.