Huntington University offers high-quality professional and graduate degree programs in Indiana and online that challenge Christian students to:
Engage in experiential-aimed scholarship and spiritual development. Integrate what you learn into your unique professional context. Transform the community in which you live and serve.
For admissions information regarding our graduate school in Indiana, email us at graduate@huntington.edu or call (800) 600-4888.
Preparing for Ministry
Gain the skills and knowledge you need in order to enhance your ministry and mission both in your backyard and around the globe.
Seventeen Huntington University Occupational Therapy Assistant (OTA) students volunteered to help with this year's Run for Love 5K Run/Walk and Fun Run. The event took place last month at the Evangelical United Methodist Church with 100 percent of the net proceeds going to support the Love In The Name of Christ ministries.
The HU student volunteers ensured runners and walkers were on the right path and kept safe. Other students manned a table with occupational literature as well as…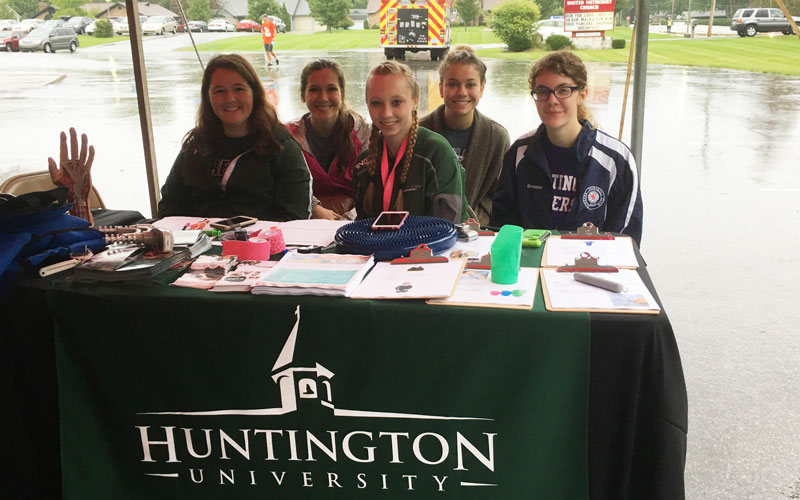 Alumni Stories
Joel Eisenbraun
Balancing a full-time job and a master's degree program can be a challenge. However, with Huntington University's Master of Arts program in youth ministry leadership, students like Joel Eisenbraun can pursue a high-caliber education while still maintaining a full schedule outside of the classroom. Joel is enrolled in the program while serving as a youth pastor in Spring, Texas. One of…
Jill Brumbaugh
It's never too late to earn a degree. That's graduate student Jill Brumbaugh's mantra. Brumbaugh, a Huntington, Ind., native, is currently enrolled in the Master of Education program at Huntington University, pursuing her degree in elementary curriculum and instruction. "The program is great," she said. "I love the hybrid class format. It's the right combination of online and classroom…