Alpha Chi
Welcome to the Indiana Beta Chapter of Alpha Chi National Honor Scholarship Society at Huntington University, located in Huntington, Indiana. Devoted to "making scholarship effective for good," the Huntington University chapter was named the Alpha Chi National Chapter of the Year for 2015–2016. Election to Alpha Chi is the highest academic honor at Huntington University.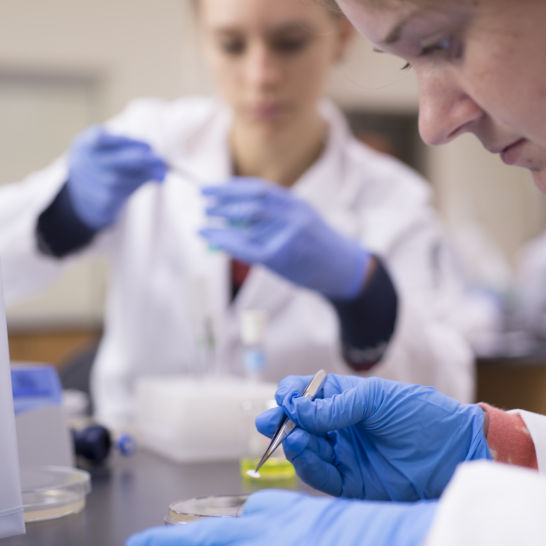 Our chapter was founded in 1967, making it the second Alpha Chi chapter in Indiana. At the April 2015 Alpha Chi National Convention, the Huntington University chapter was nationally recognized as year's the outstanding chapter with The President's Cup. This is the second time Huntington has won this distinction, having also been chosen to receive the honor in 2001. Only one other chapter has won the award twice. In 2017, we were recognized for the 21st consecutive year as a Star Chapter of Alpha Chi, one of only four chapters nationally (out of over 300) to receive this award every year since its inception in 1996.
Student members of Alpha Chi have opportunities to serve as leaders in scholarly activities and have won regional and national scholarships for their academic work. In addition, the Paul and Jean Michelson Alpha Chi Outstanding Scholar Award is given annually to an outstanding Huntington University Alpha Chi student. As the Indiana Beta Chapter of Alpha Chi continues its fifth decade of existence, we pledge ourselves to continue to be diligent in scholarship and in service.
Alpha Chi is a national honor society consisting of the top ten percent of an institution's juniors and seniors from all academic disciplines and is dedicated to "making scholarship effective for good." The society offers scholarships and graduate fellowships, produces an undergraduate journal, and hosts a national convention in which students present their scholarship and interact with top students from across the nation. The objectives of Alpha Chi include the stimulation, development, and recognition of scholarship and those elements of character that make scholarship effective for good. It is a member in good standing of the Association of College Honor Societies and has around 300 campus chapters in colleges and universities across the United States.
Alpha Chi is distinctive in that it promotes student leadership opportunities in all aspects of its operation: local chapter leadership, student representation on Regional and National Councils, and presenting original works of scholarship or art at national conventions.
For more information about the national history, organization, and current activities of Alpha Chi, visit the homepage of National Alpha Chi.
Here is what participants have to say about Alpha Chi:
"Each year, I am impressed by the academic excellence of my Huntington University peers as well as encouraged by the opportunity to present alongside top-notch students from across the nation. Alpha Chi, as an organization, has meant a lot to me during my college experience. It has helped me to find my voice as an undergraduate scholar and has provided opportunities for my academic work to be recognized." — Bronwen Fetters, English literature and writing major
"Participation in Alpha Chi is a means through which our top students really shine, whether through spearheading on-campus scholarly events, using their minds for more effective service, or producing work that earns recognition at a national level. It is encouraging that so many Huntington University faculty actively challenge our students to expand their horizons so that this type of growth and achievement can happen." — Dr. Ruth Nalliah, faculty sponsor
Activities
Yearly Alpha Chi activities on campus include, but are not limited to, the following:
An Induction honoring the academic achievements of new inductees
A social event in coordination with the Honors Program
A Graduate School Forum panel discussion on graduate school preparation and experiences
An "Are You Smarter Than a College Student?" student-faculty game
Leadership in hosting the Academic Research Forum
Alpha Chi Talkback session after an artistic event
A national service project in which Alpha Chi gives back
In addition, Alpha Chi student delegates attend the National Convention in April in which they give presentations on the national level, interact with top students from across the nation, and accept scholarships and awards.
Take a look at some of our past activities.