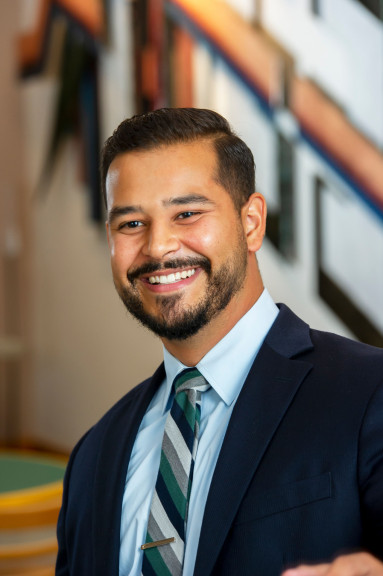 Andrew Rivera
Assistant Professor, Doctoral Capstone Coordinator
260-702-9628
arivera@huntington.edu

Andrew D. Rivera joined Huntington University in January 2019 as it's first occupational therapy doctoral alumnus to become faculty. He grew up in New Jersey where he obtained his undergraduate degree in social & behavioral sciences with a concentration in psychology from Seton Hall University. As an occupational therapy practitioner, Andrew has over three years' experience practicing in ergonomics, skilled nursing, inpatient rehab, and home healthcare.
Andrew began his career practicing in contemporary/alternative medicine as a licensed massage therapist (LMT) in orthopedic, medical, and sports practices. In conjunction with his manual therapy, he was a fellowship grant recipient for Harvard T.H. Chan's School of Public Health's "Work, Health, & Well-being" program, and trained in ergonomic evaluation specialty. During his doctoral capstone, Andrew immersed himself within a 15,000-employee public utility company in New York City; there he provided work-related injury prevention strategies, techniques, and education while creating a sustainable system for streamlining ergonomic interventions to mitigate cumulative trauma disorders and establish trust between the employee and the Health & Safety Department. His experience and doctoral studies qualified him to become board certified as an Associate Ergonomics Professional (AEP).
Andrew continues to be clinically active at Lutheran Rehabilitation Hospital of Fort Wayne. Andrew is the Northeast District Director for the Indiana Occupational Therapy Association and believes in promotion, advocacy, and developing a better future for fellow occupational therapy practitioners and the patients that are treated through evidence-based interventions. He has research interests which include quality of life, work-life balance, and injury prevention. He believes he is called to serve for God's purpose and engage in mission trips here, near, and far.
For his leisure, Andrew looks forward to spending time with his wife and son, family, playing men's church softball, traveling, and participating in his men's fellowship group.
"13Be on your guard; stand firm in the faith; be courageous; be strong. 14Do everything in love." – 1 Corinthians 16:13-14