2016 Forester Night recognizes students, faculty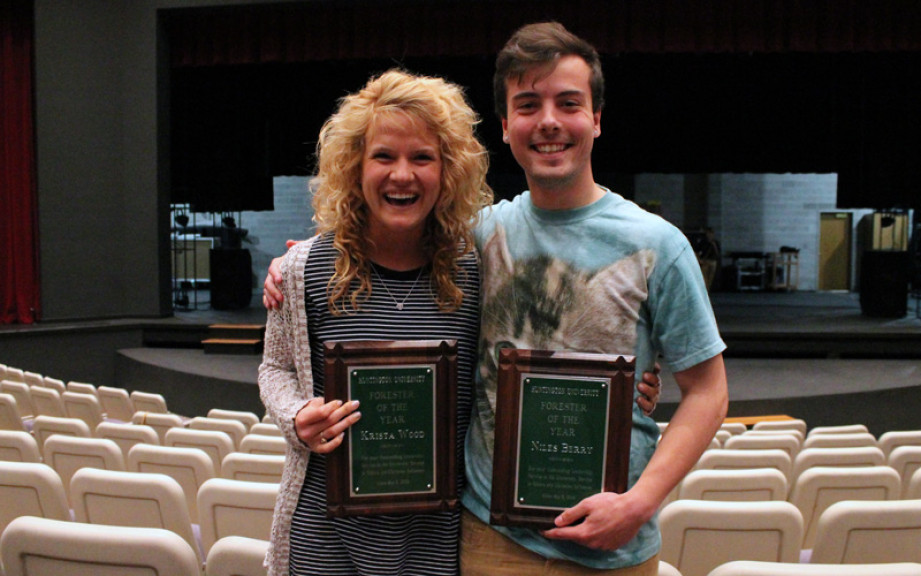 FOR RELEASE: Monday, May 9, 2016
The 45th annual Huntington University Forester Night celebrated the accomplishments of students from across campus, as well as the recognition of the Foresters of the Year, the 2016 Outstanding Scholar Award, the Impact Initiative Scholarship and the Professor of the Year. The event was held May 3.
Niles Berry, a senior social work major from Rochester, Indiana, was named the Male Forester of the Year, and Krista Wood, a senior nursing major from Waterville, Ohio, was named the Female Forester of the Year. Foresters of the Year are voted on by the Huntington University student body.
The 2016 Paul and Jean Michelson Alpha Chi Outstanding Scholar Award was given to Bronwen Fetters, a senior English writing and literature major from Huntington, Indiana. This award is given by vote of fellow Alpha Chi members to the outstanding graduate in the Indiana Beta chapter of Alpha Chi Honor Society at Huntington University.
Dr. Tim Smith, professor of non-western history, was named the 2016 Professor of the Year. Smith joined the faculty in the fall of 2007. He previously taught history at the University of East Anglia in the United Kingdom. His research and teaching focus on imperial and diplomatic history. Smith is particularly interested in Cambodia, Vietnam and Kashmir.
The 2016 Student Government Association Impact Initiative Scholarship was given to Jaron Lewton, a sophomore agribusiness, ministry and missions major from LaGrange, Indiana. SGA presents the award to a student who has had an impact on the university and the greater community. The student receives a $1,000 scholarship for his or her junior and senior years.
Taylor Lahr, a junior music choral education and psychology major from Markle, Indiana, and Karli Melder, a junior animation major from Marietta, Georgia, were honored with the Servant Leadership Award. The award recognizes students who have demonstrated leadership in the area of community and ministry service. Only juniors with a 2.5 GPA or above are eligible for consideration. Both students were awarded $1,000 scholarships, with $750 for the student and $250 for the charity of the student's choice.
Twenty-two seniors also were honored by their respective departments with Outstanding Senior Awards. The Outstanding Senior Awards are voted on by faculty. Recipients were presented plaques for their accomplishments at Forester Night.
Departmental recipients included:
Art: Paul Monroe, a senior art education and English education major from Huntington, Indiana
Biology: Michelle Hoover-Ferretti, a senior biology major from Roanoke, Indiana
Bible and Religion: Stephen Blum, a senior Bible and religion major from Pittsburg, Pennsylvania
Business & Economics: Tyson Kalischuk, a senior accounting, economics, finance and management major from Calgary, Alberta, Canada
Chemistry: Jordan Schmucker, a senior chemistry education major from Blissfield, Michigan
Communication: Abigail Thiebaut, a senior public relations and communication studies major from Munith, Michigan
Computer Science: Jacob Siegel, a senior computer science major from Saint Petersburg, Russia
Animation: Victoria March, a senior animation major from Elverson, Pennsylvania
Broadcast-Fusion Media: Kelsey Kruse, a senior broadcast-fusion media major from Auburn, Indiana
Film: Rachel Hunter, a senior film production major from Butler, Pennsylvania
Education: Madison Smith, a senior elementary education and special education major from Columbia City, Indiana
English & Modern Language: Bronwen Fetters, a senior English writing and literature major from Huntington, Indiana
Kinesiology and Sports Leadership: Tenessa Pontius, a senior exercise and movement science major from Fort Wayne, Indiana
History and Political Science: Tyler Herber, a senior history major from Fremont, Indiana
Ministry & Missions: Luke McConnell, a senior ministry major from Grand Rapids, Michigan
Music: Preston Shafer, a senior music education major from Huntington, Indiana
Nursing: Lauren Kirby, a senior nursing major from Sturgis, Michigan
Philosophy: Zach Prather, a senior psychology and philosophy major from Roanoke, Indiana
Psychology: Janelle Gouwens, a senior psychology major from Columbia City, Indiana
Social Work: Megan Schueler, a senior social work major from Decatur, Indiana
Sociology: Hannah DeMara, a senior sociology and psychology major from Goshen, Indiana
Theater Arts: Makenna Belt, a senior theater performance major from LaGrange, Indiana
Check out photos from the evening!