AOTA Award for Excellence Awarded to HU Faculty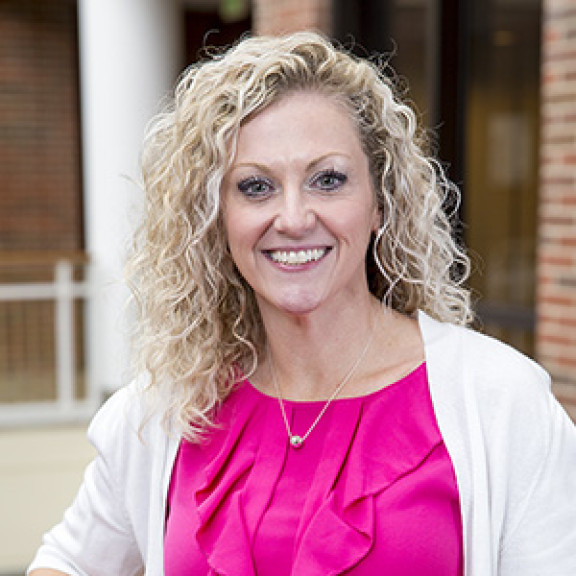 FOR RELEASE: Thursday, February 24, 2022
Huntington University is pleased to announce that Nicole Scheiman, DrOT, MHS, OTR/L, department chair, associate professor and director of the occupational therapy assistant (OTA) program, has been chosen to receive the American Occupational Therapy Association (AOTA) Award for Excellence in the Advancement of Occupational Therapy. This award is given to those who exhibit extraordinary contributions to the occupational therapy field. Scheiman will officially receive her award at the American Occupational Therapy Association INSPIRE 2022 conference in San Antonio, Texas, in April.
"Receiving the Award for Excellence in the Advancement of Occupational Therapy from the AOTA is such an amazing career honor, particularly because I was nominated by our very own occupational therapy assistant team," said Scheiman. "I have been blessed in my career to have the opportunity to work with so many colleagues and friends who are just as passionate about occupational therapy education, both at Huntington University and across the nation. It is incredible to be given an award for something you simply love doing."
Scheiman joined the Huntington University faculty in 2016. She leads and teaches in the OTA program, the first accredited baccalaureate occupational therapy assistant program in the nation.
"The work that Dr. Scheiman is doing deserves national recognition," said Dr. Luke Fetters, vice president for academic affairs and dean of faculty. "She is truly a thought leader in the approach to preparing the next generation of occupational therapy assistants. This award demonstrates, yet again, Huntington University's place as a top-tier, innovative leader in occupational therapy education."
Scheiman's clinical experiences include working in acute care, transitional care, outpatient rehab, home care, long-term care, animal-assisted therapy, prevention and wellness, and as a lymphedema consultant. She remains clinically active, seeing patients in home care and providing consultation for Tactile Medical. Her research endeavors focus on oncology and clinical education, including a study for Current Breast Cancer Reports Journal titled "Surveillance Protocols for Survivors at Risk for Lymphedema." Scheiman's research in progress includes looking at cancer education in OTA programs as it relates to clinical practice, college students' understanding and knowledge of the Human Papilloma Virus (HPV) and vaccination and using CliftonStrengths and its effects on OTA students' clinical success.
Founded in 1917, the American Occupational Therapy Association (AOTA) represents the professional interests and concerns of more than 230,000 occupational therapists, assistants, and students nationwide. Occupational therapy practitioners facilitate participation in everyday living for people of all ages. The Association educates the public and advances the profession of occupational therapy by providing resources, setting standards including accreditations, and serving as an advocate to improve health care. Based in North Bethesda, Md., AOTA's major programs and activities are directed toward promoting the professional development of its members and assuring consumer access to quality services so patients can maximize their individual potential. For more information, visit www.aota.org.