Forester Summer Series 2022 Announced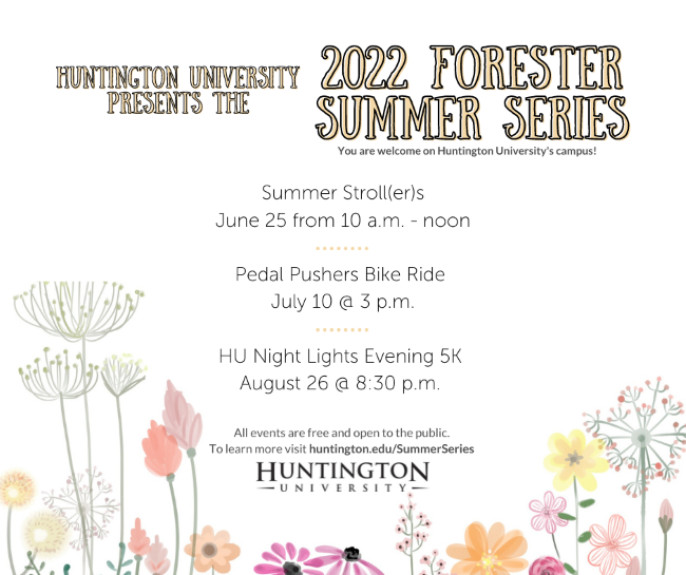 FOR RELEASE: Friday, May 27, 2022
Back by popular demand, Huntington University's Office of Advancement and the Green Ribbon Committee are pleased to announce that the second annual Forester Summer Series will launch in June.
"Huntington University is alive and well and a vital part of the Huntington community year-round, not just when classes are in session," said Marj Hiner, co-chair of the Green Ribbon Committee. "That's why we are inviting the community to join us for our Forester Summer Series. These are free activities for every age, and the events take place on campus."
The Forester Summer Series is a lineup of free events hosted by the University and the Green Ribbon Committee and sponsored by community members and organizations. The purpose of these events is to bring the community onto HU's campus.
Summer Stoll(er)s
June 25, 2022
10:00 a.m. – noon
"The Summer Stroll is an event designed for families to enjoy the beauty of Huntington University's campus and have fun at the same time," said event chair Ryan Warner.
"Whether your family requires a stroller or not, you're invited to stroll around campus at your leisure and enjoy a variety of events along the way."
Pedal Pushers Bike Ride
July 10, 2022
3:00 p.m.
If you enjoy a bike ride, no matter how long or how short, Pedal Pushers needs to be on your calendar.
As event chair Brooks Fetters puts it, "Life is better on a bicycle. Come out to the event and get a renewed perspective on life from the seat of a bike."
HU Night Lights Evening 5K
August 26, 2022
8:30 p.m.
Come enjoy Huntington's most beautiful campus at NIGHT. Challenge your friends and family to a run (or walk) throughout campus and, as event chair Susan Zahn said, "you will even get to see the cross country course in a whole new light."
To learn more, visit huntington.edu/SummerSeries. All events are free and open to the public.
Thank you to the Summer Series sponsors for making these events possible. Gold sponsors include Dr. Sherilyn Emberton; Edward Jones – Jim Scheiber; First Federal Savings Bank; HRG Law. Additional sponsors include Bippus State Bank; JJ's; Clounie Landscaping; Northwestern Mutual; Cyndy Pressler; Edward Jones – Nicolé Johnson; Freightco, Inc; Huntington Bicycle Shop; Huntington Nursery; Kline's CPA; Marj Hiner; Mark & Kay Schwob; Monte & Beth Lightner; Nick's Kitchen; Party Shop; Rufener Financial; Ryan and Patty Warner; Smith Furniture; and Trophy Center Plus.