Foresters Celebrate Forester Achievements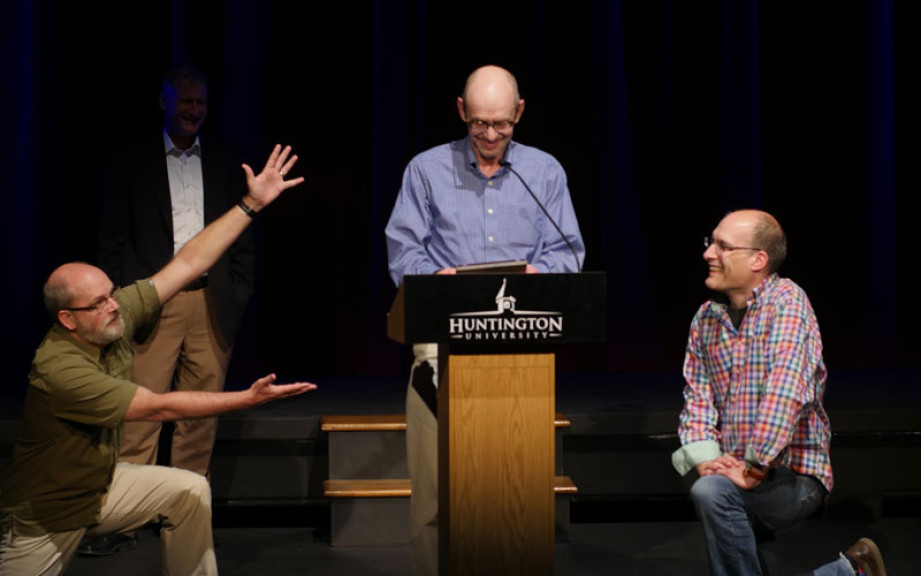 FOR RELEASE: Tuesday, May 15, 2018
The 47th annual Huntington University Forester Night celebrated the accomplishments of students from across campus, as well as the recognition of the Foresters of the Year, the 2018 Outstanding Scholar Award, the Impact Initiative Scholarship and the Professor of the Year. The event was held May 8.
Jonathon Kane, a senior film production major from Kendellville, Indiana, was named the Male Forester of the Year, and Hannah Britton, a senior Christian ministry major from Saginaw, Michigan, was named the Female Forester of the Year. Foresters of the Year are voted on by the Huntington University student body.
Dr. Dwight Brautigam, professor of European history, was named the 2018 Professor of the Year. Brautigam joined the faculty in 1987. He has won this award four times over the years. He is the only professor to win this award more than three times.
Twenty-one seniors also were honored by their respective departments with Outstanding Senior Awards. The Outstanding Senior Awards are voted on by faculty. Recipients were presented with plaques for their accomplishments at Forester Night.
Outstanding Senior Awards recipients included:
Art: Jeanie Miller, a senior art education major from Middlebury, Indiana
Biology: Adrienne Funderburg, a senior biology major from DeMotte, Indiana
Bible and Religion: Stormie Franks, a senior Bible and religion major from Toledo, Ohio
Business: Constanze Goelz, a senior Business major from Friemar, Germany
Computer Science: Morgan McCloughan, a senior computer science major from Parma, Michigan
Animation: Jesse Maestrian, a senior animation major from Ironwood, Michigan
Broadcast-Fusion Media: Logan Hunt, a senior broadcast-fusion media major from Jackson, Michigan
Film: Ben Crane, a senior film production major from San Antonio, Texas
Economics: Quinn Groff, a senior economics major from Ligonier, Indiana
Education: Erica Bluhm, a senior elementary education from Fort Wayne, Indiana
English & Modern Language: Nicole Magnes, a senior English writing and literature major from Greenville, Ohio
History: Selina Pohl, a senior History major from Lansing, Michigan
History Education: Kurt Siegel, a senior History Education major from Sylvania, Ohio
Political Science: Darius Hillman, a senior Political Science major from Angola, Indiana
Ministry & Missions: Nick Balsiger, a senior ministry major from Fort Wayne, Indiana
Music: Hannah Taing, a senior music education major from Berne, Indiana
Nursing: Shelby Harkness, a senior nursing major from Huntington, Indiana
Psychology: Hannah Johnson, a senior psychology major from Fort Wayne, Indiana
Social Work: David Kurtz, a senior social work major from Fort Wayne, Indiana
Sociology: Leah Marsh, a senior sociology and psychology major from Ann Arbor, Michigan
Theater Arts: Alex Voeller, a senior theater performance major from Oak Creek, Wisconsin