Forester Night Recognizes Foresters, Professor of the Year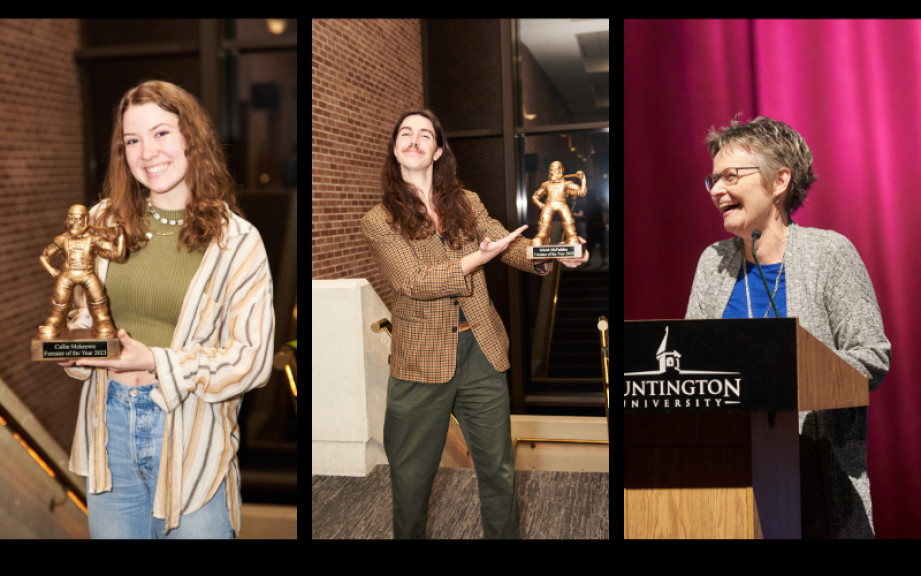 FOR RELEASE: Thursday, April 20, 2023
The 52nd annual Huntington University Forester Night celebrated the accomplishments of students from across campus and recognized the Male and Female Foresters of the Year and the 2023 Professor of the Year. The event was held April 18.
Micah McFadden, a film production major from Minooka, Illinois, was named Male Forester of the Year.
"To be named Forester of the Year is a huge honor and means the world that the student body would choose me," said McFadden. "I have been very blessed by my friendships and relationships at Huntington and am beyond grateful for the award."
After graduation, McFadden is headed to Chattanooga, Tennessee, to be a full-time commercial and film editor.
Callie McKeown, a film production major from Holly Hill, Florida, was named Female Forester of the Year.
"I moved over a thousand miles away from my home, support system, and warm climate to join the Forester Family. I was looking for a fresh start and a place to grow and discover who I could be on my own," said McKeown. "Huntington has provided me with an incredibly nurturing environment to excel in the classroom, grow in my faith, and learn to love others in the way Jesus loves me. This community has shaped me in ways I never thought possible. I know how much Huntington has completely changed my life, which makes me so honored to be given this opportunity to represent the amazing women of the Class of 2023."
The 2023 Professor of the Year award was given to Dr. Ann McPherren, professor of business and economics and assistant to the President for program development. McPherren returned to her alma mater in 1981 and has since served the University in various academic and administrative endeavors, including as department and division head, vice president for strategy, vice president for graduate and professional programs and interim university president. McPherren has been instrumental in the launch of several academic initiatives, including HU's first doctoral program (occupational therapy) and its expansion to Peoria, Arizona.
"When you are a teacher, you are surrounded by hopes and dreams," said McPherren. "That's enough for me, but this recognition by students in my 42nd year is a real encouragement. It's put a little more pep in my step."
Huntington University is a comprehensive Christian college of the liberal arts offering award-winning graduate and undergraduate programs in more than 70 academic concentrations. Founded in Huntington, Indiana, in 1897 by the Church of the United Brethren in Christ, Huntington University has over a century of experience educating graduates who are ready to impact the world for Christ through scholarship and service. The nonprofit university operates at three academic locations, including the original home campus in Huntington, a doctoral program in occupational therapy location in Fort Wayne, Indiana, and an undergraduate and doctoral program location in Peoria, Arizona. Online programs are also available. Huntington University's home campus offers 17 men's and women's athletic programs, and the university is a member of the Council for Christian Colleges and Universities (CCCU).