HU Arizona Welcomes Two New Faculty Members, One New Staff Member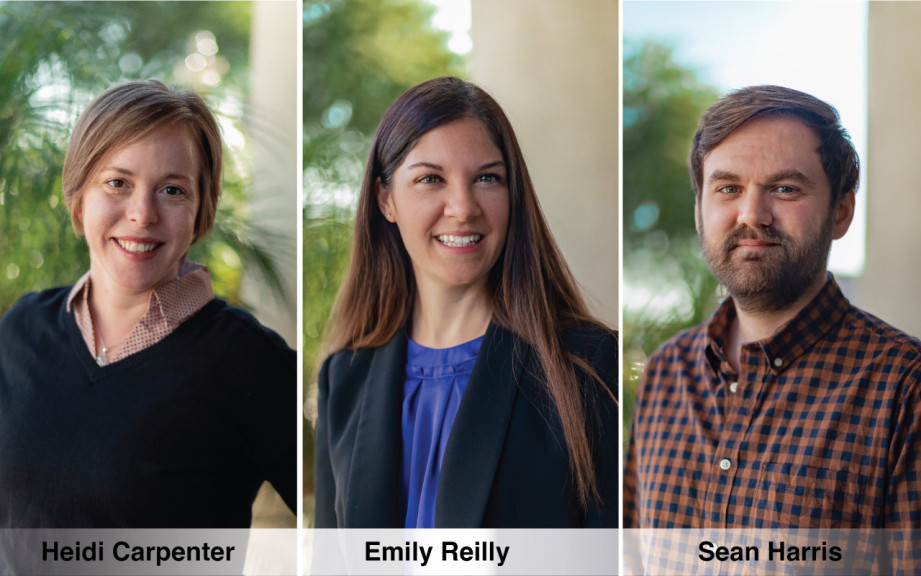 FOR RELEASE: Tuesday, November 30, 2021
Huntington University Arizona is pleased to announce the hiring of two new faculty members, Dr. Heidi Carpenter and Dr. Emily Reilly, as well as one new staff member, Mr. Sean Harris, in the Doctoral Program in Occupational Therapy (OTD program).
Dr. Heidi Carpenter is an assistant professor of OTD and the academic fieldwork coordinator for HU Arizona. Carpenter earned her doctoral degree from Creighton University in Omaha, Nebraska. She has been an active member of the Arizona Occupational Therapy Association (ArizOTA) since 2016 and is currently serving as the Association's president.
"Carpenter is bringing her expertise in a wide area of practice, research and volunteer service to the state occupational therapy association to our program," said Dr. Evelyn Andersson, HU Arizona's OTD program director. "Dr. Carpenter's professional network contacts will be very valuable as she continues to develop the HU Arizona OTD fieldwork program in collaboration with the Fort Wayne OTD faculty as well as contribute to our faculty scholarship agenda."
Dr. Emily Reilly also joins the faculty as an assistant professor of OTD for HU Arizona. Reilly will be developing HU Arizona's adult-to-older-adult track in the curriculum and contributing to capstone development and faculty scholarship in the areas of community-based occupational therapy interventions and emerging practice. Reilly holds a doctoral degree from Nova Southeastern University in Davie, Florida.
"Dr. Emily Reilly brings expertise in home health, aging in place and home modifications and excellent knowledge about the core values and theories of the occupational therapy profession," said Andersson. As an educator, Reilly "hopes to empower students to gain confidence in defining occupational therapy, networking with stakeholders, and advocating for clients and families."
Sean Harris joins the HU Arizona staff as the new OTD program administrative assistant. Harris has a degree in history from Arizona State University with an interest in archeology and has experience with digital and online publishing and marketing.
"Harris brings his excellent organizational and digital skills to the OTD program addressing the everyday needs of the program and the students," said Andersson, "as well as maintaining a substantial record system for accreditation audits."