HU Department of Visual Arts seniors to showcase work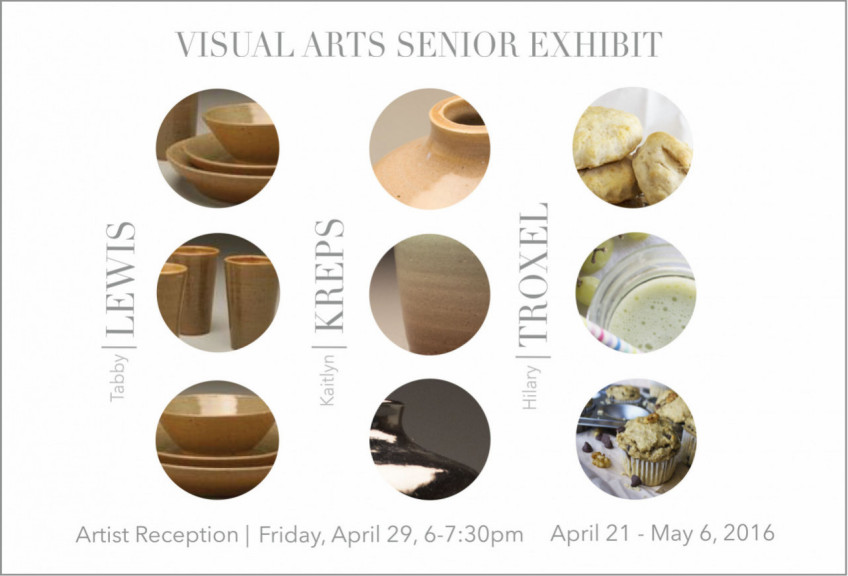 FOR RELEASE: Wednesday, April 27, 2016
Huntington University's Visual Arts Department opened its senior exhibit Thursday, April 21. A variety of artistic mediums from three graduating seniors are featured.
The exhibit is held in the Robert E. Wilson Gallery located in the Merillat Centre for the Arts and will run through May 6. Students will host an artist reception on Friday, April 29, at 6 p.m. The exhibit and the reception are free and open to the public. The Wilson Gallery is open weekdays form 9 a.m. to 5 p.m., before and after all Merillat Centre performances, and by appointment.
Exhibitors and their work will include:
Kaitlyn Kreps, a studio art major from Huntington, Ind., has worked on creating functional ceramic pieces over the course of two semesters. The first of which is a series of bottles inspired by Hideaki Miyamura with the second being a series of dish sets. Each of these works is meant to be put to use, not to be used merely as decoration.
Tabby Lewis, a fine arts major from Lima, Ohio, also is focusing her senior exhibit on ceramics. In discussing her inspiration, Lewis said, "The ceramic dinnerware set was created as a representation of the family dinners that I share with my family. The ceramic lidded urns symbolize the people in my life that have passed away. They are people that have had a big impact in my life and have taught me many things. My friend is being represented on the third urn and she taught me that even though we live in messy, dirty world, Christ can come into our lives and bring us hope. My pieces are display on a table and chairs that are covered in bad news and obituaries to represent that even though we do live in messy world, we can have hope in Christ and the people who have encouraged our lives."
Hilary Troxel, a graphic design major and fine arts minor from Bluffton, Ind., will be presenting two of her projects that she has been working on this past year. Projects that will be exhibited include pastel drawings. "Pastels are one of my favorite mediums," Troxel said. "I enjoy the bright colors and the painterly effect when drawing with them," She also is featuring a food photography magazine. "Photography has been a passion of mine. Everyone sees things differently. Photography is a way to share my perspective with others."
For more information about the department of visual arts, go to www.huntington.edu/art.