HU Film Program Produces Feature Film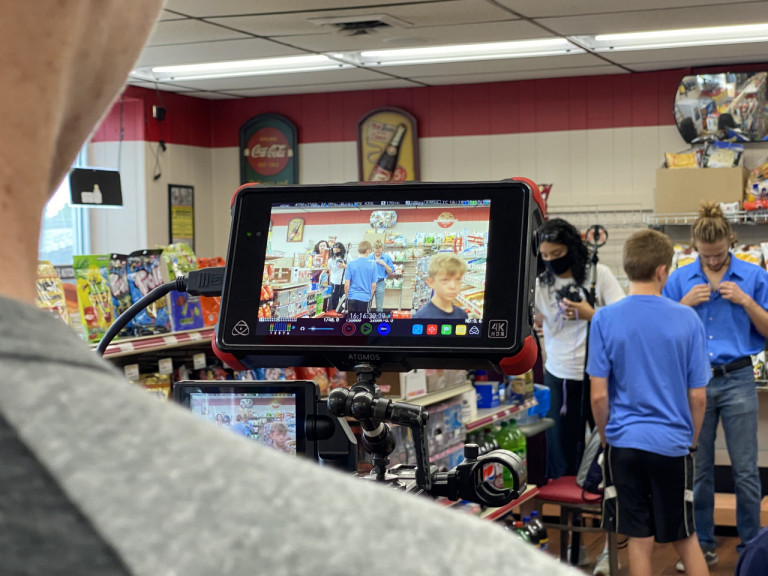 FOR RELEASE: Tuesday, May 18, 2021
Huntington University and Kinema Pictures, LLC are partnering to film promotional footage for an upcoming feature film entitled, "Glenn Frank." The film will be the first feature film project from HU's Digital Media Arts program, and the launch of the new Film Production Capstone major, which will culminate in a large film project every year.

The first film, slated for production in May 2022, is "Glenn Frank." Inspired by a true story set in rural Michigan in 1973, it tells how a young pastor's kid with a dream to play guitar and his father, desperate to unite four small churches under one new roof, find the one person who can help them both – Glenn Frank – a washed-up, alcoholic country singer who happens to be a carpenter. As the pastor and Glenn work together on the church, Glenn secretly teaches the boy guitar, and the entire community comes together to find healing and unity through tragedy and redemption.

Kinema Pictures is a local production company started by Dr. Lance Clark and Professor Matt Webb, both of HU's Digital Media Arts faculty. Both Clark and Webb have experience in corporate media, music videos and independent feature films. This will be their first feature film co-directed and produced together.

"We are excited to bring to Huntington a handful of film professionals from around the country, many of them HU alums, to mentor our students on this large-scale film project," said Dr. Lance Clark, dean of the School of the Arts at Huntington University.
This May, professional cast and crew from Chicago, Los Angeles, Atlanta, Phoenix and Philadelphia will join students to create a trailer, music video, and several other promotional projects for the film. The promotional materials will be used to raise additional funding for this film and others to follow.
To learn more about Huntington University's film program, visit www.huntington.edu/Film. You can also explore HU's new Film Certificate at www.huntington.edu/Create.