Film Production Degree (BS)
In Huntington University's Film Program we put equipment in your hands from the first day of classes. You don't have to wait until your 5th semester of college. You will receive a foundation of storytelling and digital filmmaking techniques that will in turn enable you to produce and direct both live-action and documentary films that reflect faith and speak truth to the culture at large.
Through our film program, you will learn to appreciate and engage with the practical, historical, theoretical, and spiritual aspects of being a filmmaker. A combination of classes, practicum experiences, and studio work will provide you with the knowledge and experience you need to enter a career in filmmaking.
You'll also have an opportunity to participate in making a feature-length movie through our Film Capstone Semester. Experience an intensive professional film internship under the mentorship of HU alumni and friends working in the industry. Be a part of making an HU movie and make professional connections to last a lifetime.
SAG Actor Stephen Baldwin talks about his experience on set at Huntington University's feature filmmaking capstone experience.
Grant Information
If you're interested in studying film in the Digital Media Arts department at Huntington University, consider applying for the DMA Film Grant
Apply Now!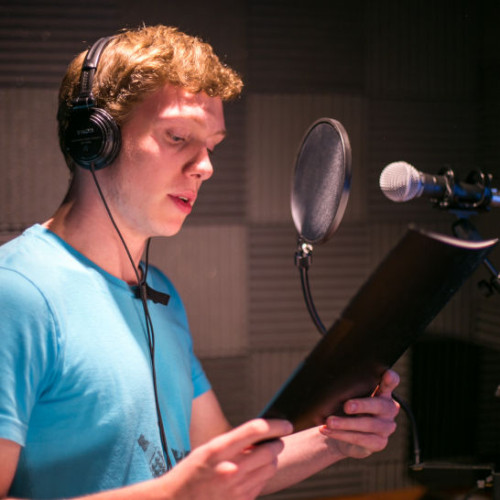 Turn our resources into valuable experiences.
The Martin Center for Digital Media Arts in Becker Hall is fully equipped for any filmmaking experience you may desire. Our department houses green screen studios, editing labs, a screening room, and both sound design and Foley workspaces. Students also gain experience with the newest DSLR cameras, LED lighting, sound recorders, and our RED cinema camera. Unlike many film schools, the department believes in a hands-on approach to learning, so you will have access to all these items and spaces starting from day one.
You will work closely with our professional faculty and mentors to gain knowledge of the full spectrum of film positions available in the job market, including sound design, cinematography, lighting, screenwriting, producing, and directing. Classroom knowledge will be useful to you as you create semester-long film projects that you can then submit to film festivals.
Build a substantial portfolio.
Students can gain professional experience and get paid for it during the school year through DMA's entrepreneurial portal, Clear Insights. Recent clients have included advertising agencies, film and video production companies, local businesses, and a host of non-profit organizations and ministries.
Once you have completed a project, you will have opportunities to submit it to film festivals around the globe. Our students have consistently garnered film festival awards. You will also have opportunities to travel the country and even the world on a variety of film shoots over J-term and Spring Break.