HU students receive "Best of Festival" at Broadcast Educator Awards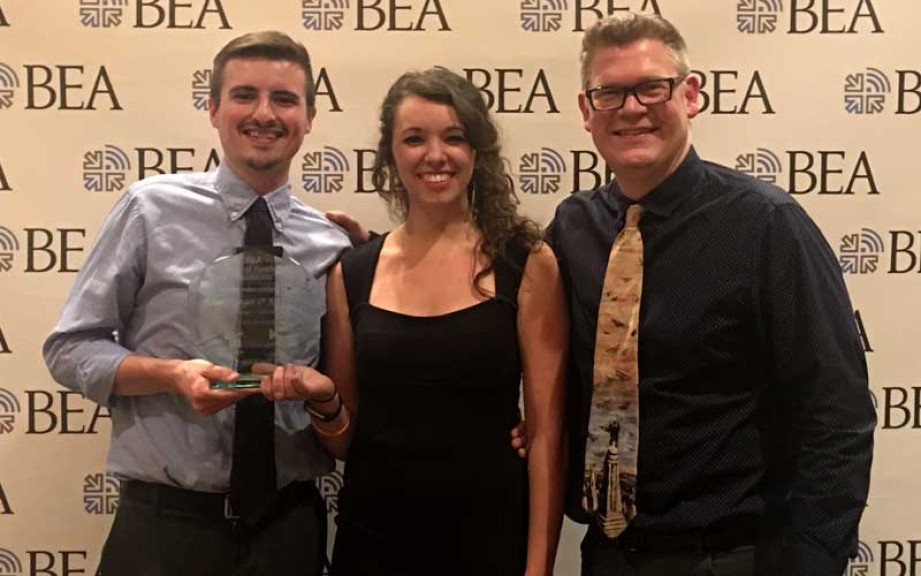 FOR RELEASE: Wednesday, May 3, 2017
Senior film production students Adam Konger (South Whitley, Indiana) and Randi Orr (Corunna, Indiana) received the "Best of Festival" at the Broadcast Educator Awards for their promotional student video production of The Julie Amos Story.
The Julie Amos Story was a crowd sourcing film that was intended to help bring awareness to Julie Amos' and her battle with multiple sclerosis. To help with her treatment of the disease, Amos needed a stem cell transplant that would cost nearly $130,000. The video Konger and Orr produced helped raise nearly $120,000 in a matter of just a few weeks.
Seventeen faculty and student works were been chosen to receive the BEA Best of Festival King Foundation Awards – the top awards given during BEA's Festival of Media Arts, a competitive festival open to BEA faculty and student members.
"We had a terrific showing this year at the BEA conference," stated Dr. Lance Clark, Associate Dean of the Arts. "In fact, we found out that Huntington University was the 3rd most awarded university in the nation with 10 awards just behind Arizona State and Oklahoma State."
Best of Festival winners were honored at the 15th Annual BEA Best of Festival King Foundation Awards Ceremony in Las Vegas on April 24, 2017 as part of BEA's annual convention. During the ceremony, recipients were recognized with a specialized screening of their winning project and a cash award of $1,000 from the Charles and Lucille King Family Foundation. The 2017 Best of Festival winners were selected from a pool of over 1,450 entries, representing over 175 colleges and universities in the following competitions: audio, documentary, interactive multimedia, news, scriptwriting, sports, two-year/small colleges and video. For a complete list of winners for all of the Festival of Media Arts competitions, please visit www.beafestival.org.
About the Festival of Media Arts: The BEA Festival of Media Arts is an international refereed exhibition of faculty creative activities and a national showcase for student work. The Festival provides a venue for exhibition of winning submissions, including recognition of project authors, through showcase and awards sessions held during BEA's annual convention in Las Vegas. The Festival seeks to enhance and extend creative activities, teaching, and professional standards in broadcasting and other forms of electronically mediated communication.