HUAZ Helps Host Special Visual Effects Symposium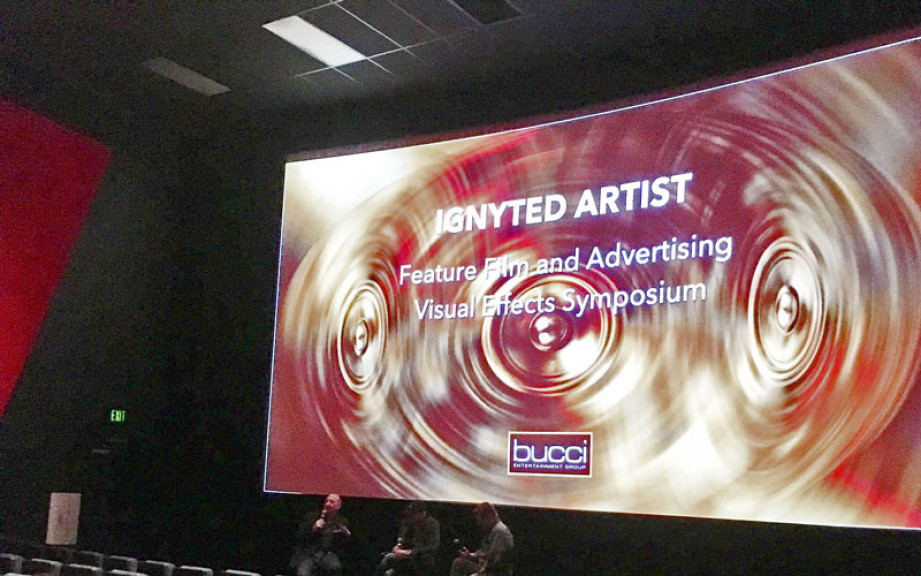 FOR RELEASE: Tuesday, March 28, 2017
What could be better than appreciating the details of the excellent visual effects in movies such as Night at the Museum, Captain America, The Avenger films, The Great Wall, and Harry Potter? How about the opportunity to directly interact with the creators of some of the visual effects? That is the quick summary of what a contingent of HU AZ students did on Saturday, March 18.
The HUAZ students joined other area college students, high school students from the Peoria Student Broadcasting Network (PSBN), media teachers and professors along with media industry professional for a special Visual Effects Symposium courtesy of Ignyted Artists and Bucci Entertainment Group. Guest speakers for the morning general session included Matthew Dean Russell (Producer, Director, and Screen Writer at BAKEDFX Studies in Los Angeles) and Mark Mathis (Idependant Feature Film Producer and Line Producer).
After the morning presentation at Harkins Theater, it was Huntington's opportunity to host all attendees including teachers and students at our building for lunch. HU students had the opportunity to interact with media professionals from around the valley who came to the event. But the highlight of the day for many if not all HU students in attendance occurred after lunch when Matt Hartle (VFX & Motion Graphics Director of BAKEDFX Studios) let a special session in the HU Screening Room direct from his studio in Montana.
Hartle appeared via video link and then shared his computer desktop with the audience which consisted primarily of HU students and PSBN students. Hartle showed the details of some of his digital effects work from movies like Fantastic Beasts and Where to Find Them as well as a story board animation he is currently constructing for the new multi-million dollar Paramount Animation Studios logo. That was followed by a lengthy Q & A session with the students that resulted in Hartle pulling up prior projects from his extensive list of design folders on his computer much to the appreciation of the audience.
When asked about the quality of the day afterwards HU students where quite positive on the experience. Rich Sawyers, currently a graphic design major but moving to animation, thought Hartle's presentation was very interesting and appreciated his detailed answers to the student questions regarding design process and software. Josiah Hunt, a film production major, summed up the symposium day in three concise words: "It was dope!" Well said, Mr. Hunt.