Huntington University Grads Win Big at Local Film Festival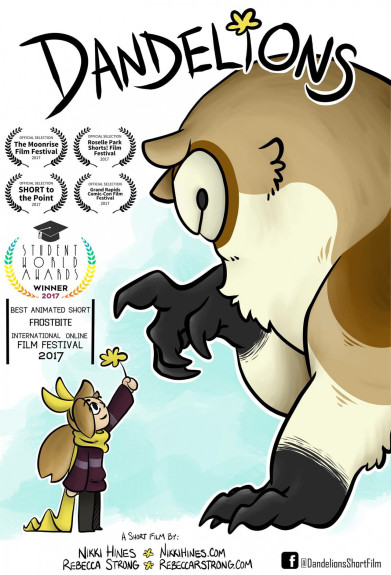 FOR RELEASE: Monday, June 25, 2018
Earlier this month, two Huntington University alumnae received the award for Best Student Work at the 2018 Hobnobben Film Festival in Fort Wayne. Nicole Hines and Rebecca Strong, both 2017 graduates, earned the award for a project they worked on as students in the Huntington University digital media arts animation program. The Hobnobben Film Festival celebrates local, regional, national and international filmmakers while encouraging people to immerse themselves in Fort Wayne's unique culture.
"Taking first place in one of Indiana's largest film festivals means so much to us and simply tells us that our emphasis on telling great stories is paying off," said Lance Clark, associate dean of the arts and professor of digital media arts.
Hines, from Logansport, and Strong, from Fort Wayne, brought home the prestigious award for their animated short film Dandelions, a tale of a beast who is cursed and cannot touch anything without killing it until it meets a young girl who helps it with this struggle. Hines was credited as the director of the film, and both Hines and Strong were credited as producers.