HU's OTD program hosts White Coat Ceremony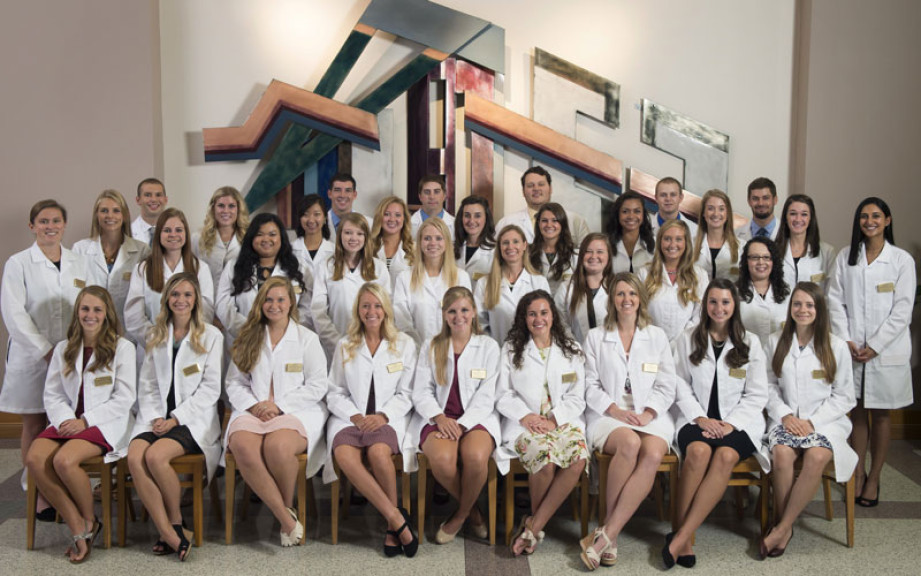 FOR RELEASE: Thursday, September 8, 2016
Huntington University's 2019 Doctorate of Occupational Therapy (OTD) class was welcomed into the occupational therapy profession on August 31 with a White Coat Ceremony.
The 34 students from across the country began their three-year program last week at Huntington's Fort Wayne location on the Parkview Hospital Randallia campus. The White Coat Ceremony was held at the Salem United Church of Christ, Fort Wayne with university President Dr. Sherilyn Emberton challenging each student to be "exceptional" in all they do.
"Professionalism starts on day one of the program as these doctoral students take on the responsibility of clients from young to old. OT practitioners take a holistic approach to the physical, cognitive, perceptual and psychosocial aspects in disabilities, illness and injury to help clients engage in meaningful 'occupations' or activities in their daily lives," stated Dr. Ruth Ford, director of occupational therapy / professor of occupational therapy.
The White Coat Ceremony signifies each student's commitment to deliver the best care to their patients, with compassion and empathy as the hallmark of their clinical practice.
Huntington University's OTD program is ranked as the #1 graduate program in the U.S. by GraduatePrograms.com. There are more than 450 OTD schools nationwide. Both Huntington University's OTD and the occupational therapy associate (OTA) programs are approved by Higher Learning Council to confer the designated degrees of doctorate and associate of science. Earlier this year, the Accreditation Council for Occupational Therapy Education granted full accreditation of the doctorate degree for the maximum term of seven years. The associate degree, which began this fall, is in candidacy status.
HU's occupational therapy programs equip students for professional service, promoting the development of skills in leadership, advanced practice, and research while encouraging growth in faith.