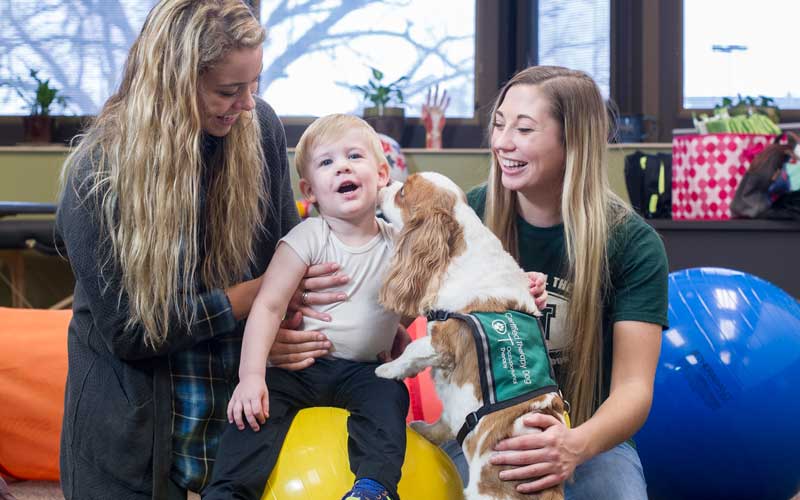 Occupational Therapy Practitioners Improve Lives
Do you want to be directly involved in providing therapy to patients as they develop, recover and improve skills needed for daily life? That is what students who earn an associate of science degree in Occupational Therapy Assistant do.
Huntington University's Occupational Therapy Assistant (OTA) program is unique in the fact that the associate and bachelor degree will be earned at the same time leading to a variety of post graduation opportunities. An OTA graduate may enter the workforce following successful passing of the national exam or apply to a masters or doctoral program to become an occupational therapist.
Coursework is completed over four years, with in-depth learning in designated classrooms and laboratory space. Students gain skills in assessment and intervention strategies, professional behaviors, commitment to life-long learning, scholarship, leadership and technology, and professional writing through guided learning experiences.
To check out the courses offered in Huntington University's OTA program, check out the OTA Academic Catalog.
NBCOT Eligibility
Graduates of the program will be eligible to sit for the National Certification Examination for the Occupational Therapy Assistant, administered by the National Board for Certification in Occupational Therapy (NBCOT). After successful completion of this exam, the graduate will be an occupational therapy assistant, certified (COTA).
In addition, all states require licensure to practice and state licenses are usually based on the results of the NBCOT certification examination. A felony conviction may affect a graduate's ability to sit for the NBCOT certification examination or attain state licensure. Students must complete Level II fieldwork within 24 months following completion of the didactic portion of the program.
Accreditation
Huntington University's Occupational Therapy Assistant Program has been successfully granted candidacy status with the Accreditation Council for Occupational Therapy Education (ACOTE) effective April 13, 2016. Huntington may now admit students into the Occupational Therapy Assistant Program and will proceed to the Preaccreditation Review step of the accreditation process. HU's Occupational Therapy Assistant Program will be included on AOTA's list of programs that are holding Candidacy Status. Learn more about Huntington University's ACOTE status.
Admission to HU's Occupational Therapy Assistant Program
This is a dual degree program: Occupational Therapy Assistant (OTA) associate degree and Bachelor's of Health Science. Application for the program is a two-step process.
Step 1: Students will apply as a freshman for undergraduate studies declaring the major OTA and Health Science. OT100 and OT200 are offered during freshman and sophomore year to introduce students to the OTA program.
Step 2: Students will be required to officially apply to the OTA program during the spring of their sophomore year. Students will be required to meet the following criteria for acceptance into the OTA program:
Cumulative college GPA of 3.0 or higher
Prerequisites (earning a B- or 2.67 or higher per class)

Anatomy & Physiology I - enrolled
Introduction to Psychology - completed
Academic Writing and Research - completed
Medical Terminology - completed
Interview with OT Department- completed
Writing sample onsite - completed

Competitive high school ACT or SAT score
Reference information
Meet the Faculty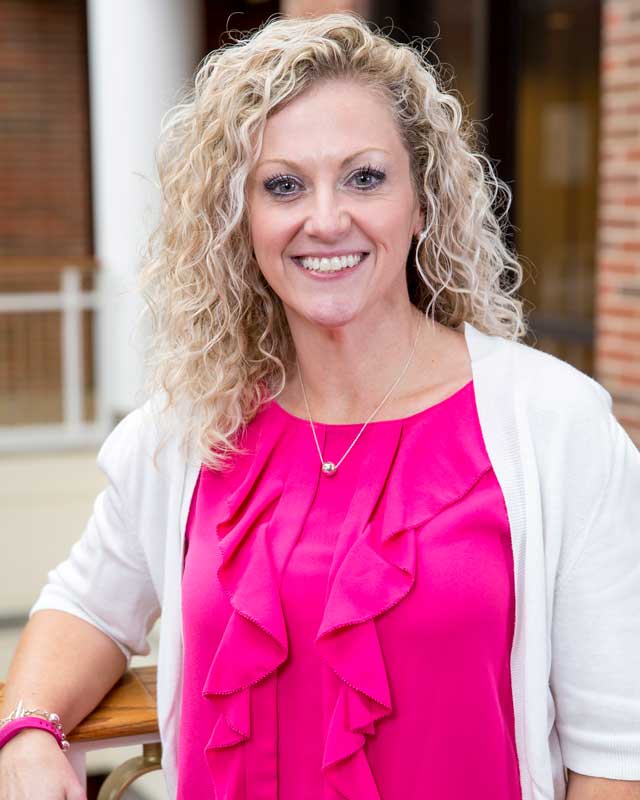 Nicole Scheiman, Director of OTA Program
Nicole Scheiman, a native of Huntington Indiana, graduated from Indiana University's Bachelor of Occupational Therapy (OT) program in 1999. Her clinical experiences including working in the following areas: acute care, transitional care, outpatient rehab, home care, long-term care, animal assisted therapy, prevention and wellness, and as a lymphedema consultant. She continued her clinical expertise experience by earning the following clinical certifications: Certified Lymphedema Therapist (CLT), Lymphedema Association of North American certification (LANA), Certified Kinesiotaping Practitioner (CKTP), Certified Ergonomic Evaluation Specialist-Advanced (CEES-Advanced), Certified Senior Strength Trainer (CSST) and Certified Strength Training Specialist (CSST).
In 2010, Scheiman continued her education by earning a Master's in Health Science from the University of Florida. Furthering her leadership roles, she became the clinical coordinator of Rehabilitation Services, and then was promoted to the clinical manager of Sports Medicine and Rehabilitation, and lastly, she became the director of Sports Medicine and Rehabilitation. While director she received a $300,000 grant from Florida Hospital for the implementation of the CREATION Health program. Scheiman completed her Doctorate in Occupational Therapy with her research in the area of breast cancer rehabilitation and clinical education.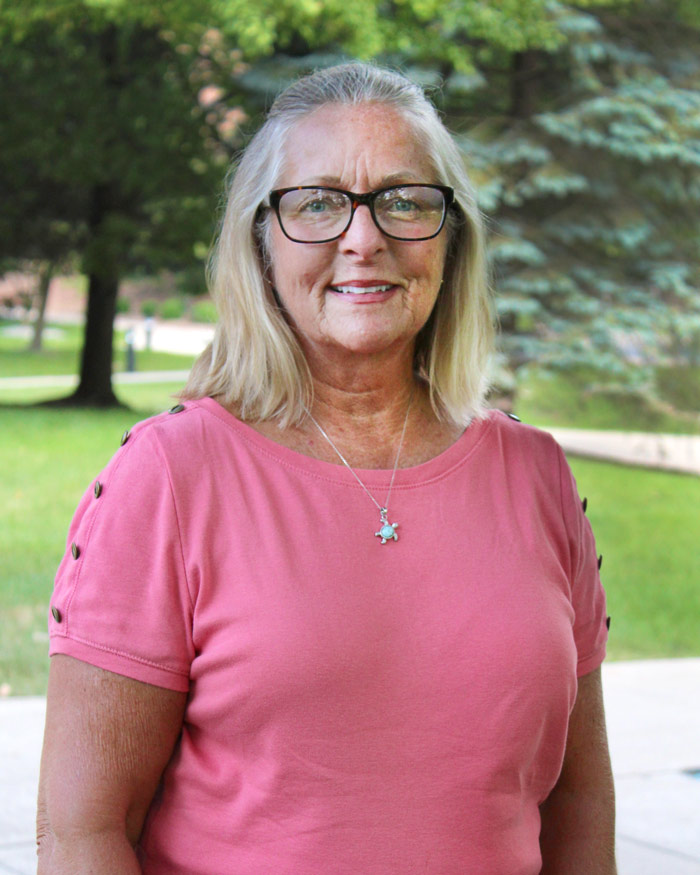 Deborah Fitzcharles, Academic Fieldwork Coordinator
Deb Fitzcharles is the occupational therapy assistant (OTA) fieldwork coordinator and OTA instructor at Huntington University. She is responsible for teaching the fundamentals of occupational therapy and placing OTA students in fieldwork experiences that suit their personalities and interests.
In addition to certifications as an academic fieldwork educator and LSVT-BIG, Deb holds a master's degree in human services from Argosy University and undergraduate degrees from the University of Saint Francis and Harrison College. She also remains current in the clinical setting at Parkview Regional Medical Center, seeing acute and cardiac patients, and is an active member of the Indiana Occupational Therapy Association, the American Occupational Therapy Association, the Commission on Education (for a three-year tenure), the National Board for Certification of Occupational Therapy, and the National Organization for Human Services.
Her clinical experiences include acute care and rehab with adults and children, skilled nursing facilities, and mental health care. Deb served as the first COTA rehab lead at Parkview Hospital from 2004 through 2006 and as the rehab director at a skilled nursing facility in Warsaw for six years.
Deb's academic career began in 2011 at Brown Mackie College as a professor and later an academic fieldwork coordinator in the OTA program. She was the faculty advisor for the SOTA (Student Occupational Therapy Assistant) club and initiated a monthly newsletter to keep students informed about legislative and professional changes in the OT world.
A native of Ft. Wayne, Deb lives in Churubusco, where she takes care of her pets and enjoys spending time with her three children and brood of grandchildren, especially on the beach.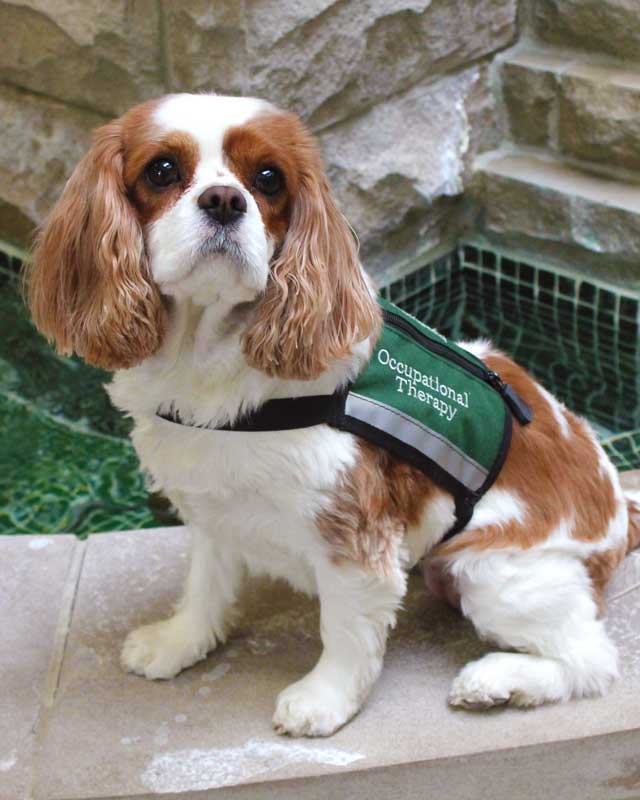 Hope Scheiman
Hope is a certified therapy dog that lives at Huntington University with the objective of providing students, visitors, staff and faculty with affection. She goes on community service visits, by request, and embodies HU's commitment to Christ and service. Some of her professional experiences include classroom visits, research, orientations, continuing education and soothing students during finals week!
Before transferring to HU, Hope worked at Adventist University in Orlando, FL. Hope received her professional education from various instructors. She attended West Volusia Kennel Club, American Kennel Club and has been under the direction of Brian Gisis, an animal behavior specialist, since 2013. She has also been a part of Therapy Dogs International since 2014. Hope works with several different programs and has extensive impact. She specializes in Alzheimer's day care, adolescent behavioral centers, hospitals, shelters for the homeless, children with Autism, Paws to Read program and in the Hope Occupational Therapy Clinic.