Lake City Invests in HU Ag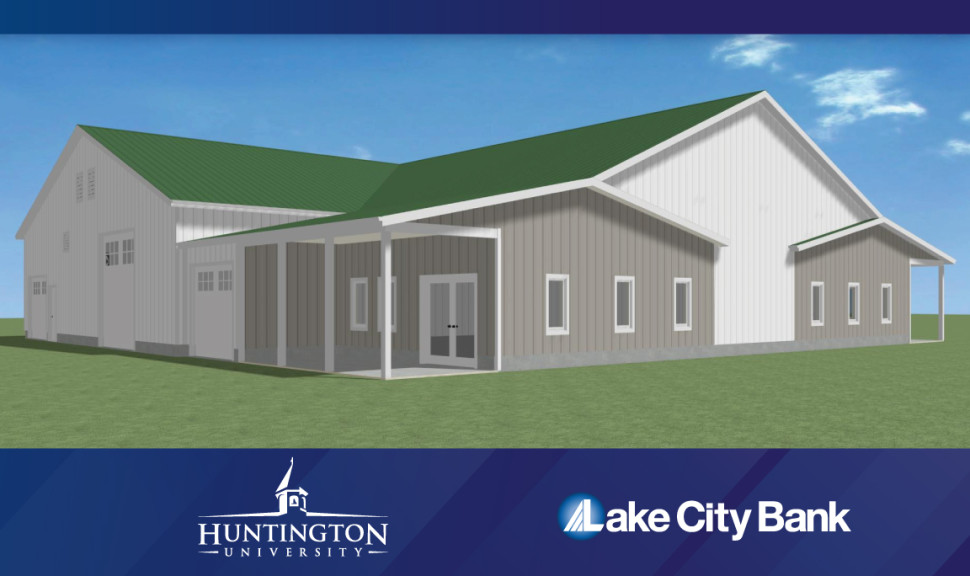 FOR RELEASE: Tuesday, October 20, 2020
Huntington University continues to feel the community's support for University growth. Most recently, this feeling of investment and community connection came in the form of a $100,000 commitment from Lake City Bank to the Don Strauss Animal Science Education Center and the Huntington University Haupert Institute for Agricultural Studies.
"Like Lake City Bank, Huntington University recognizes the critical importance of the agricultural community in Northeast Indiana and throughout the Midwest. Huntington's practical, hands-on program brings students directly into the ag sector throughout their academic experience," said David M. Findlay, president and chief executive officer of Lake City Bank.
The construction and naming of the Don Strauss Animal Science Education Center was announced in December of 2019, and construction began in spring of 2020. Named in honor of the late Don Strauss, a fourth-generation member of the Strauss family in North Manchester and founder of Strauss Veal Feeds and Midwest Poultry Services, the 10,000-square-foot space will house many of the key livestock elements of HU's agriculture degrees.
"We covet the gifts and support of community partners like Lake City Bank," said Dr. Sherilyn Emberton, president of Huntington University. "Their investment in this space is an investment in HU's ag and biology students today and in the future."
This investment in agriculture isn't a first for Lake City Bank. In fact, it's part of its pedigree.
"Lake City Bank has a proud history of banking the agricultural community," said Findlay. "Since our founding in 1872, we've been banking Hoosier farmers and agricultural related businesses. We are one of the largest agricultural lenders in the state of Indiana and are very proud of our expertise in the ag sector and the strong relationships we have across the industry."
The $100,000 gift will be made over four years, with $10,000 committed to support HU's department of agriculture and $15,000 committed to the Don Strauss Animal Science Education Center each year.
Huntington University is a comprehensive Christian college of the liberal arts offering graduate and undergraduate programs in more than 70 academic concentrations. U.S. News & World Report ranks Huntington among the best colleges in the Midwest, and Forbes.com has listed the university as one of America's Best Colleges. Founded in 1897 by the Church of the United Brethren in Christ, Huntington University is located on a contemporary lakeside campus in northeast Indiana. The nonprofit university is a member of the Council for Christian Colleges and Universities (CCCU).
Lake City Bank, a $5.4 billion bank headquartered in Warsaw, Indiana, is the sixth largest bank headquartered in the state, and the largest bank 100% invested in Indiana. Lake City Bank operates 50 branch offices in northern and central Indiana, delivering technology-driven solutions in a client-centric way to individuals and businesses. The bank is the single bank subsidiary of Lakeland Financial Corporation (Nasdaq Global Select/LKFN). For more information visit lakecitybank.com.