Parkview Health donates to HU nursing program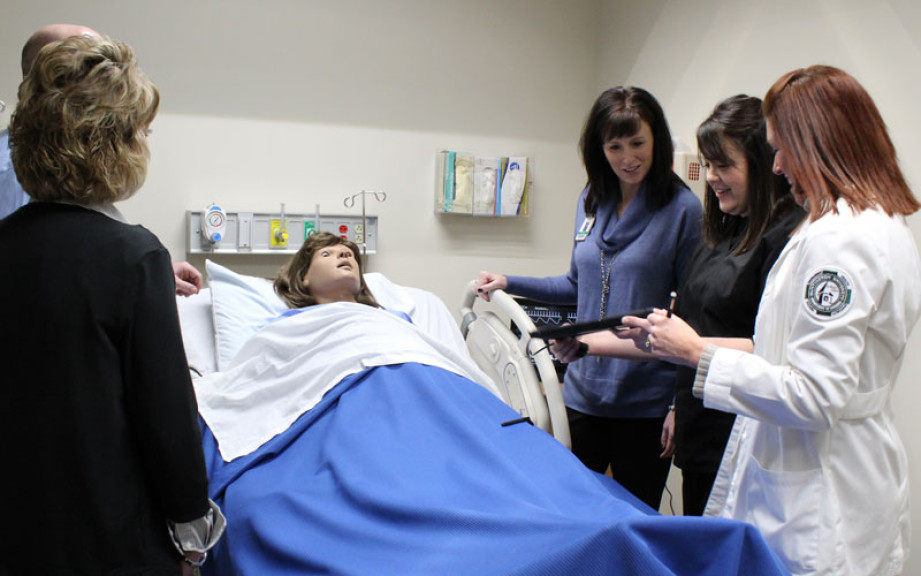 FOR RELEASE: Tuesday, March 20, 2018
Parkview Health has presented Huntington University with a $60,000 donation for its nursing program. The HU Department of Nursing used the funds to purchase new patient simulators, a labor bed, and all training and set up associated with the new equipment.
"The Huntington University Department of Nursing faculty, staff and especially students are very thankful for the generosity of Parkview Huntington Hospital," said Diana Shenefield, Huntington University's Director of Nursing. "We are very grateful to be partnered with Parkview Huntington Hospital to provide excellent nursing education for our community."
The new simulators include an adult male, an obstetrics patient, and a newborn, all of which can be used in a variety of advanced learning environments.
"Better prepared nursing students become nurses who can provide better care with a shorter learning curve on the job" said Doug Selig, vice president of Patient Care Services for Parkview Huntington Hospital. "These simulators HU has purchased are incredibly versatile and will allow the students to practice some really challenging care scenarios without putting a life at risk. Our clinical staff use simulators like this to sharpen their skills, particularly on situations they don't encounter very often. This will be a real leap forward for the HU nursing program."
The simulators manifest vital signs, clinical signs and symptoms to provide enhanced realism of scenario-based learning. The new simulators are part of the $267,000 investment in Huntington University's Department of Nursing that also includes new classroom equipment, facility remodeling and training.
"It is such a pleasure for us to be able to help Huntington University's nursing program acquire these state-of-the-arts simulators," said Juli Johnson, president of Parkview Huntington Hospital. "Our board understands and appreciates the value of this strong tie between our two organizations, so I was not surprised they chose to support HU's funding request."
Launched in the fall of 2007, Huntington University's Department of Nursing currently has over 75 students and boasts an 8:1 faculty-to-student clinical setting ratio. Huntington's nursing graduates average a 92 percent pass rate on the National Council Licensure Examination and 100 percent of those passing have a job in the health care industry within six months.