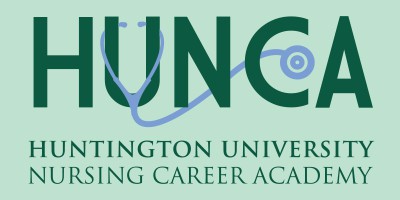 Nursing is more than a profession; it's a calling. At Huntington University, we encourage the next generation of nurses to pursue that passion. HU nursing students gain the hands-on skills that are coveted in the health care industry, but they also are taught how to harness their passion to serve others in their field.
What will I study?
Huntington University's nursing program provides students with extensive on-campus and off-campus clinical experiences, as well as in-depth training in human anatomy, physiology and chemistry, in addition to core courses in the liberal arts. The faculty prepare students for a successful career in nursing through the integration of academic excellence, Christian faith, and professional competence.
The HU Difference
If you want to be one-of-the-many, a state school with a massive nursing program might be the right fit. But if you want to connect with your faculty and form relationships with your fellow students, there's no question that HU's nursing program is where you belong.
"HU nursing is just unique. I loved the class size, the professors, my fellow nursing students and the campus." - Jessica Muoh, class of 2012
Still don't believe us? How about this: HU's nursing program has an 88% average pass rate for the NCLEX, which is higher than the national average, and a 95% job placement rate. That means that within six months of passing the NCLEX, 95% of HU nursing graduates have a job in the health care industry.
Career Paths
When most people think "nurse" they think "hospital," but that's not the only option. Qualified nurses can pursue a variety of job placements. Some HU nursing grads have found themselves working in:
home health nursing
missions
parish nursing
emergency rooms
specialty clinics
And that's just the tip of the possibilities iceberg. If you have an interest in a specific field of nursing, HU will find a mentorship opportunity for you.
"It is wonderful to have an outstanding BSN program right in Parkview Huntington Hospital's backyard at Huntington University. Not only are the students of the highest caliber, but the nursing instructors are also excellent, with years of hands-on experience to their credit. HU's nursing instructors encourage their students to understand their calling to nursing and to dedicate themselves to personal and clinical excellence. Thanks to their exceptional training and guidance, HU nursing graduates are a natural fit for Parkview Huntington, and we're glad to help them start their careers in health care." - Juli Johnson, President of Parkview Huntington Hospital
The Arnold P. Gold Foundation (APGF) and the American Association of Colleges of Nursing (AACN) announced that Huntington University is one of 50 nursing programs across the nation selected to receive funding to host a White Coat Ceremony.
Developed to champion scientifically-sound, compassionate care, the APGF-AACN White Coat Ceremony for Nursing is held at the beginning of an academic year to promote the importance of humanistic, patient-centered care to new nursing…
Featured Alum
Aaron Lehman
Aaron Lehman begins his days by receiving reports, assessing situations and creating a plan of action for the day. No, he is not a business manager; he is a nurse. "I was involved with was performing emergency CPR during a CT scan," he said. "My patient was in critical condition due to a large trauma accident. While he was receiving a CT scan, I noticed on his vital sign monitor that…
Featured Faculty
Holly Tester
Holly Tester began her appointment at Huntington University in August 2008. She welcomes students to the Nursing Department, assists them with required paperwork and handles all the department's student records.