Nursing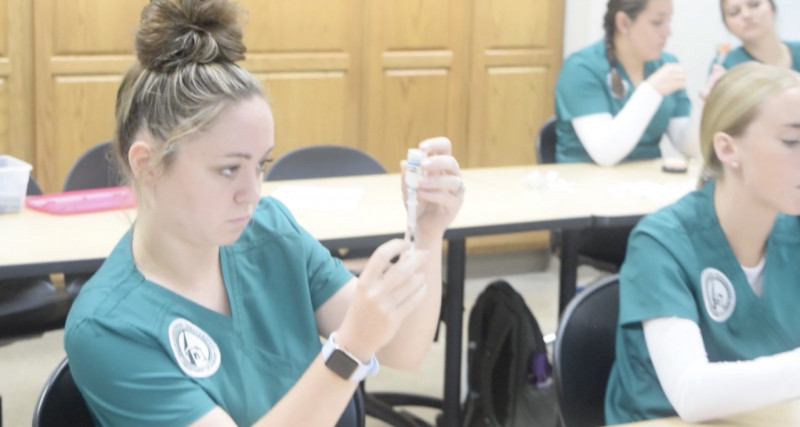 Nursing is more than a job; it's a calling
At Huntington University, we encourage the next generation of nurses to pursue that passion. HU nursing students gain the hands-on skills that are coveted in the health care industry, but they also are taught how to harness their passion to serve others in their field.
The Bachelor of Science in Nursing (BSN) program at Huntington University is built upon Christian principles and is strengthened by our broad curriculum in the liberal arts. Your professors will help you integrate academic excellence, Christian faith, and the professional competence needed for success in nursing.
As a nursing student at Huntington University, you'll take two kinds of courses: pre-nursing classes and nursing classes (including clinicals). During your first two years at HU, you will take rigorous courses in human anatomy and physiology, chemistry, and core courses in the liberal arts. Students are admitted into the nursing major in the first semester of their freshman year through a competitive ranking of academic performance and other qualifications, such as the Test of Essential Academic Skills (TEAS). As a junior and senior in the nursing program, the focus of your courses will be nursing with a additional core courses.
Interested in an ABSN?
In just 13 months, you can make an impact of a lifetime!
Learn More
100%
HU Job Placement Rate
100%
HU Students Who Receive Scholarships
+3 Million
RN Jobs Needed in US
Summer Nursing Career Camp
If you've ever wondered what it would be like to study nursing and become a nurse someday, this is the academy for you!
Learn More & Register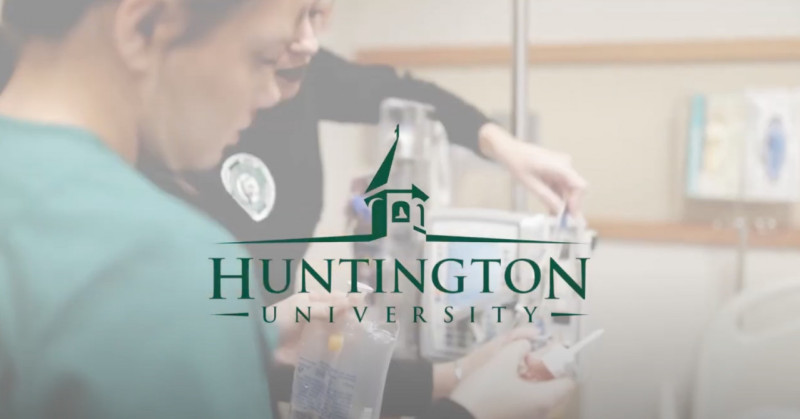 If you want to be one-of-the-many, a state school with a massive nursing program might be the right fit. But if you want to connect with your faculty and form relationships with your fellow students, there's no question that HU's nursing program is where you belong.
"HU nursing is just unique. I loved the class size, the professors, my fellow nursing students and the campus." - Jessica Muoh, class of 2012
Still don't believe us? How about this: In 2017, Huntington University's nursing program had a 92% pass rate for the NCLEX (which is higher than the national average) and a 100% job placement rate. That means that within six months of passing the NCLEX, 100% of Huntington University's nursing graduates have a job in the health care industry.
Huntington University's nursing program provides students with extensive on-campus and off-campus clinical experiences, as well as in-depth training in human anatomy, physiology and chemistry, in addition to core courses in the liberal arts. The faculty prepare students for a successful career in nursing through the integration of academic excellence, Christian faith, and professional competence.
Jodi Eckert, Director of Nursing
Jodi Eckert is an experienced nursing professional with a demonstrated history of working in the medical industry.
Her experience includes working as a surgical trauma nurse in the ICU at Parkview Hospital and supervisory and case management roles before being called to serve in higher education.
Alumnus follows grandfather's Forester footsteps
For Jessica Muoh, nursing was the perfect path for her to merge two of her passions: studying science and serving others.
"It just made absolute sense to me to pursue it," she said.
And she decided Huntington University was the place she wanted to achieve her goal of becoming a nurse. Hailing from the Republic of Benin, West Africa, Muoh followed in her grandfather's footsteps and came to the States to attend Huntington University.
"When it came to me studying in the United States, it just had to be here," she said.
Muoh found her niche in the nursing field while she was completing the program's clinical rotation during her last semester at HU. When observing interactions between the Lutheran Hospital's ICU nurses and their patients, she fell in love with the department.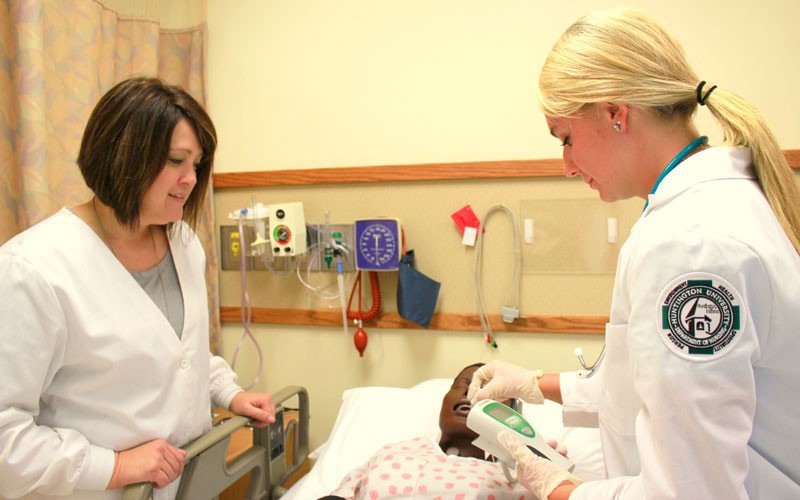 Department Accreditation
The baccalaureate degree in nursing at Huntington University is accredited by the Commission on Collegiate Nursing Education (http://www.ccneaccreditation.org).
The baccalaureate degree in nursing at Huntington University has full accreditation status through the Indiana State Board of Nursing, 402 West Washington Street, Room W072, Indianapolis, IN 46204.