Peanuts Dance Their Way to Huntington University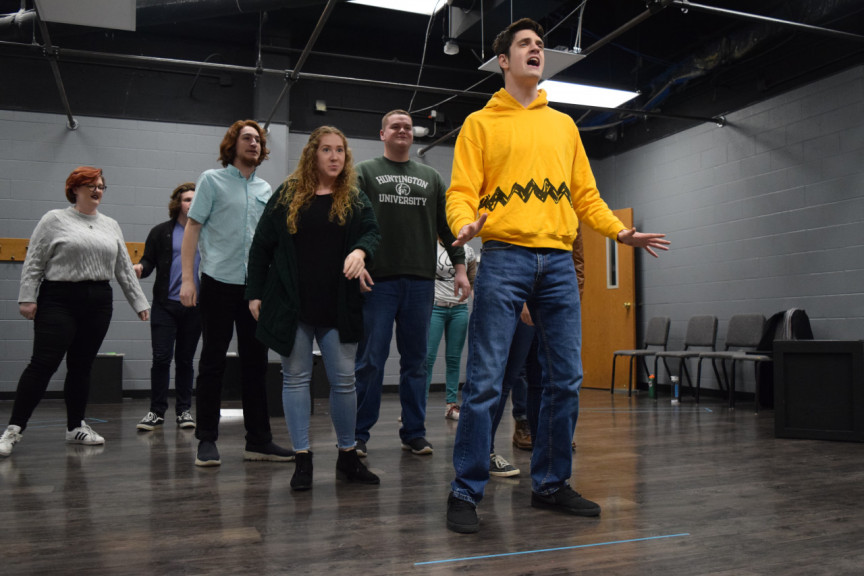 FOR RELEASE: Thursday, February 6, 2020
HUNTINGTON, Ind. — Charlie Brown and his beloved band of Peanuts characters are coming to life on the Huntington University stage. Based on the classic comic strip by Charles M. Schulz, this musical features Charlie Brown, Sally, Linus, Lucy, Schroeder, and Snoopy in a charming revue of vignettes and songs. The characters tackle the challenges of friendship, the highs and lows of sibling relationships, the pitfalls of elementary school, and other life lessons with the wit and humor that have charmed readers and audiences for over 65 years.
Though the comic strip is many years older than any of these young thespians, they are all energized by the idea of "creating three-dimensional character out of these two-dimensional creations," as senior Eleni Hanson, the theatre performance major who is portraying Lucy, put it.
"Everybody in the cast is more than five years old, but our characters are supposed to be around that age," said Andrew Bower, senior theatre performance major, who is portraying Charlie Brown. "We're playing kids, so we have to figure out what that means physically and vocally since it's a musical."
Even the lovable beagle Snoopy is inspiring bourgeoning actors to get into character.
"I'm been eating kibble for the last two weeks to get into character," joked freshman film major Brody Bowman, who will be playing the canine. "Just kidding. But really, it has been incredibly fun to pretend. As a kid you pretend to be an animal all the time, so to be able to be these characters that are so unapologetically childlike, it's great!"
Since it first premiered off-Broadway at Theatre 80 in 1967 to its 2016 off-Broadway revival, You're a Good Man, Charlie Brown! has been nominated for a Grammy Award for Best Musical Show Album as well as Tony awards for Best Revival of a Musical and Best Direction of a Musical, and it has won the Drama Desk Award for Best Performer and Outstanding Director of a Musical, Outer Critics Circle Award for Outstanding Off-Broadway Musical, and Tony Awards for Best Featured Actor in a Musical and Best Featured Actress in a musical, to name a few.
The show opens on February 27 at 7:30 p.m. with additional shows on February 28, 29 and March 5, 6, and 7 at 7:30 p.m. and February 29 and March 7 at 2:00 p.m. All shows will take place in the Studio Theatre in the Merillat Centre for the Arts. Tickets are on sale now at the Huntington University Box Office or online at huntington.edu/CharlieBrown. Tickets range from $5 to $13.
You're a Good Man, Charlie Brown!  is presented by arrangement with Tams-Witmark, a Concord Theatricals Company. It is based on The Comic Strip "Peanuts" by Charles M. Schulz; book, music and lyrics by Clark Gesner; additional dialogue by Michael Mayer; additional music and lyrics by Andrew Lippa; original direction for this version of "You're A Good Man, Charlie Brown" by Michael Mayer; originally produced in New York by Arthur Whitelaw and Gene Persson
Huntington University is a comprehensive Christian college of the liberal arts offering graduate and undergraduate programs in more than 70 academic concentrations. U.S. News & World Report ranks Huntington among the best colleges in the Midwest, and Forbes.com has listed the university as one of America's Best Colleges. Additionally, Princeton Review has named the institution a "Best Midwestern College." Founded in 1897 by the Church of the United Brethren in Christ, Huntington University is located on a contemporary, lakeside campus in northeast Indiana. The non-profit university is a member of the Council for Christian Colleges and Universities (CCCU).