Reverend Wilson Named VP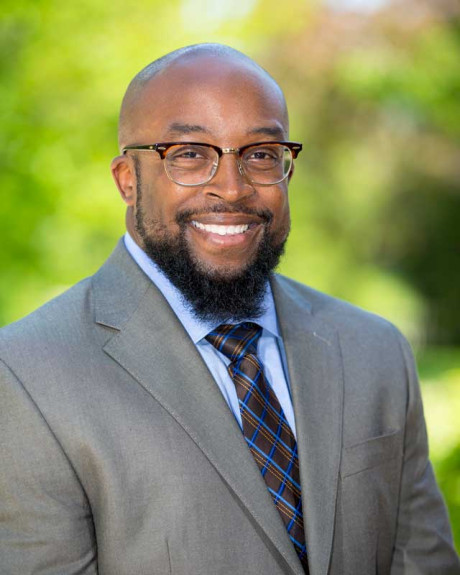 FOR RELEASE: Tuesday, October 27, 2020
HUNTINGTON, Ind. — Huntington University and the Board of Trustees are pleased to announce that Reverend Arthur Wilson has been promoted to Vice President for Spiritual Formation. Wilson is the first person of color to be named a vice president at Huntington University.
He began his tenure with Huntington University in 2009 as director of the Horizon Leadership Program.
"I came here under a vision of making this place more diverse, more reflective of the Kingdom of heaven," said Wilson. "The fact that I'm here today doing what I'm doing is evidence of the fact that that was a dream realized."
Wilson continued, saying that this opportunity is "a combination of so many different things that are part of my journey where I'm able to be a steward for God and help young people develop their faith in a way that inspires them to continue making differences not only in their own lives but in the lives of others." But Wilson doesn't consider this to be a personal achievement as much as a step in the right direction for Huntington University and a story of hope and opportunity for his community in Fort Wayne.
"I understand that the opportunities God provides me, they're not only meant for me, they're meant for so many others who look to me for inspiration" said Wilson, reflecting on his experience as a teenager growing up in Fort Wayne's inner city. "I can't help but appreciate the opportunity that I have and the role that I get to play in the lives of young people who look like me. I'm making an impact in Huntington through this role, but that impact extends itself to the southeast side of Fort Wayne where I continued to reside, and I hope that when young people see my example they see that, wow, if Arthur can be used in such a place while growing up in this place then maybe, just maybe, God has a plan for me."
Along with his team, Wilson and the Center for Spiritual Formation and Intercultural Enrichment will continue to foster the spiritual and cultural growth and development of the University as well as steer Huntington University's spiritual formation plan, In Stride. In Stride, the 2019-2023 Spiritual Formation Plan, was developed in part from a longitudinal study that looked closely at the needs of Huntington University students. From that study, it was evident that students desire relational ministry and that faculty, staff, and student peers each have significant influence on spiritual development.
"The University is privileged to have such a dynamic and committed leader as Arthur Wilson," said Dr. Sherilyn Emberton, president of Huntington University. "Throughout his leadership journey at Huntington University, he has provided excellent and innovative oversight at every level."
Wilson joined the Senior Leadership Team in April 2016 as a dean of spiritual life. He began his tenure with Huntington University in 2009 as director of the Horizon Leadership Program.
Wilson formerly served as the City Life coordinator for Fort Wayne Area Youth for Christ and represented Fort Wayne Area Youth for Christ on a national level by serving as a camp speaker and member of the City Life National Team. In 2004, Wilson graduated from Taylor University Fort Wayne with a Bachelor of Science degree in pastoral ministries. In 2012, he earned a Master of Arts degree in youth ministry leadership from Huntington University.
Wilson and his family reside in Fort Wayne. Wilson serves as the vice-chair for the Northeast Indiana Youth for Christ, is an assistant pastor at Imani Baptist Chapel in Fort Wayne, and is as an assistant coach for the Forester track and field program, working primarily with sprinters. 
Huntington University is a comprehensive Christian college of the liberal arts offering graduate and undergraduate programs in more than 70 academic concentrations. U.S. News & World Report ranks Huntington among the best colleges in the Midwest, and Forbes.com has listed the university as one of America's Best Colleges. Founded in 1897 by the Church of the United Brethren in Christ, Huntington University is located on a contemporary lakeside campus in northeast Indiana. The nonprofit university is a member of the Council for Christian Colleges and Universities (CCCU).