Forester Camps
Foresters Gameday Experience
When: Friday, November 3, 2023, 9:00 a.m. - 8:30 p.m.
Where: Huntington University
Who: Current high schoolers
Cost: $25
Registration link is live
HERE
If you are a high school student interested in learning more about sports management, sports marketing, communication, broadcasting, or business and sports administration, this is the experience for you. You will be put into an immersive all-day educational environment where you will get hands-on training on how to set up, run, and produce a college athletic event alongside current students, faculty, and business professionals. Opportunities will take place to connect with and learn from coaches, sports information directors, athletic directors, college athletes, and more, all while getting to actually see what life would be like to run a high-level sporting event. The day will culminate in helping with different aspects of running a live Huntington University Forester men's basketball game in the newly renovated Platt Arena. Registration is now open, and space is limited.
There's a Forester Camp to suit your style!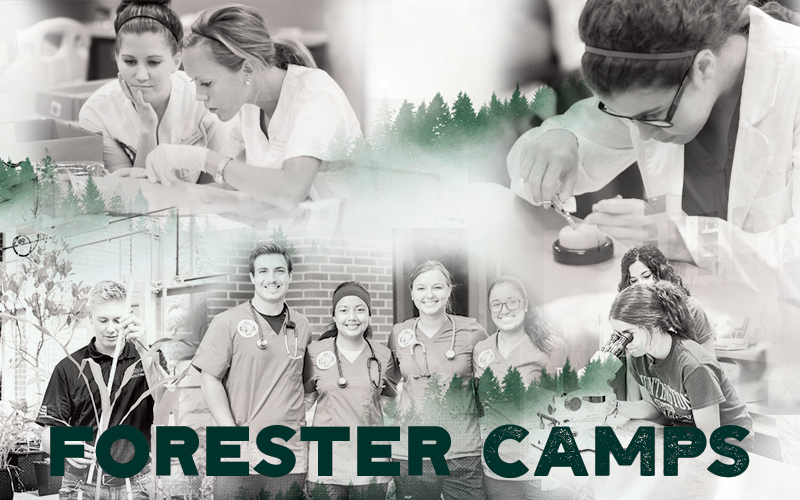 Join us on Huntington University's home campus in Huntington, Indiana, for a camp experience that's right for you!
Early bird registration is available for most camps. Check back on this webpage for up-to-date camp lineups, registration forms, and camp details. To see if you automatically qualify for a full summer camp scholarship, fill out the registration form for your camp or camps of choice completely.
If you have questions, email mgerlach@huntington.edu or call (260) 224-2728.
Experience college life
Attending a Forester Camp is about as close as you can get to attending college without a student ID! You'll experience real life in an on-campus community, work with real equipment and tools, learn and get feedback directly from real college profs, and spend extended time in real campus spaces.
Follow your passion
Choose a camp that interests you. Our current camps cover a wide variety of topics, and we have even more options in the works!
Learn something new
Our camps are deep dives into topics that matter. With expert faculty to guide you, the odds are good that you will come away from a Forester Camp knowing more than you did before.
More options!
Interested in atheltics or sports camps this summer?
Check it out!