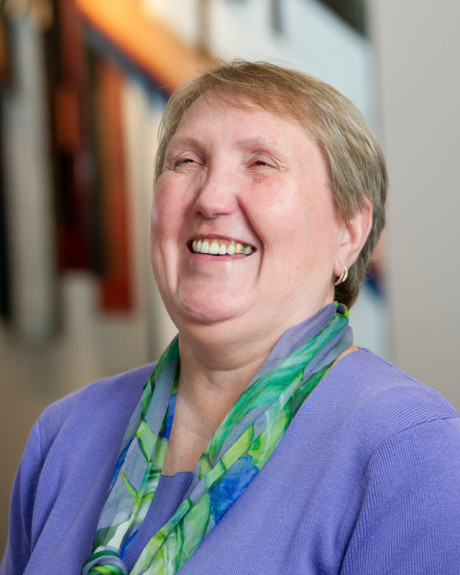 Jeanne Sowers
Associate Professor
(260) 702-9630
jsowers@huntington.edu
Dr. Sowers came to Huntington University in 2018 as an associate professor. She has extensive academic experience teaching occupational therapy at the doctorate and masters level. In 1993, she started teaching as an adjunct faculty member at Newman University in Wichita, Kansas. She has held faculty positions at the University of South Dakota and Belmont University. Prior to joining Huntington, she was the Program Director of the Indiana State University Occupational Therapy Program. She has extensive involvement with occupational therapy students through coursework in foundational materials, ethics, mental health, adult neurological, older adult, and technology. She has supervised and participated in initial and re-accreditation at various institutions to meet ACOTE accreditation standards. On June 1, 2021 Dr. Sowers will assume the Program Director position at Huntington University.
Dr. Sowers earned her entry level occupational therapy degree from the University of Kansas (1981) followed by a post-professional master's degree from Texas Woman's University in 1996. She earned her doctorate from Creighton University in 2004. She has previous credentialing Neurodevelopmental Treatment (NDT) in Adult Hemiplegia. She is currently certified as an Aging in Place Specialist and an event coordinator and trainer with CarFit.
Dr. Sowers has a broad research agenda. She readily becomes interested in topics that address adult rehabilitation, animal assisted practice, technology, and community mobility. She has participated in numerous professional presentations at the local, state, and national level. She has held multiple positions in state occupational therapy associations including past president of the Tennessee Occupational Therapy Association. She was a founding member of the Tennessee Rehabilitation Coalition and a member of the Tennessee Disability Coalition.
Prior to teaching and mentoring students, Dr. Sowers practiced primarily in the area of adult rehabilitation in the acute care, acute rehabilitation, home health, skilled nursing, and community based setting. Most recently, Dr. Sowers has been involved in the area of community mental health providing services to individuals with addictions. She has also been involved with assessing community mobility (driving) and independent living with the older adult population.