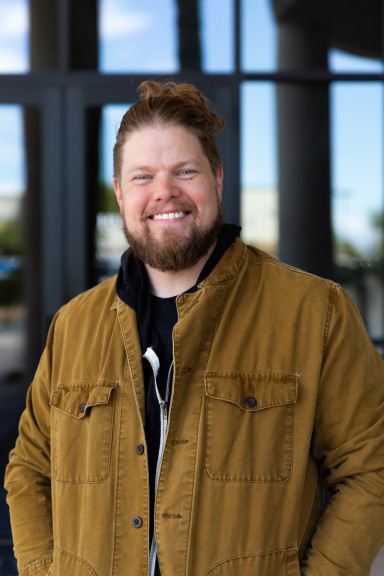 Phil Wilson
Arizona Digital Media Arts Program Director
(480) 939-5022
pwilson@huntington.edu
Phil Wilson is an Emmy Award winning filmmaker from the Pacific Northwest. He is a Director of film festival shorts and documentary videos for local and international non-profits. He was the first Faculty member hired to launch the University's Center for Digital Media Arts in Peoria, AZ where he currently serves as DMA Program Director and Assistant Professor of Film Production.
His creative scholarship has been honored by the Broadcast Education Association's Festival of Media Arts 14 times, including a "Best of Fest - Faculty Audio" Award in 2021. In 2022, he won an Emmy Award for "Lighting - Location/Studio" from the Rocky Mountain Emmys. His documentary film, "Down the Rabbit Hole: the Arts, the Pandemic, and the Curiouser Immersive Project" screened at the 2023 Phoenix Film Festival, at the Herberger Theater in downtown Phoenix, and at the American Association of Community Theater's annual Festival in Louisville, KY. One of his proudest accomplishments, both professionally and academically, was being invited to serve as a Faculty Mentor and Camera Operator on the University's first feature film project, "Wayfaring Stranger."
During his tenure as DMA Program Director, Huntington University Arizona's Film and Animation programs have received 22 "Official Selections" at the Phoenix Film Festival (Arizona's largest Film Festival), 35 Rocky Mountain Emmy "Student Production Awards," and a "#4" ranking (out of 170 participating colleges/universities) for "Film/Video" by the Broadcast Education Association: https://beaweb.org/festival/2023-school-rankings/#filmvideo.
He holds a BA in Radio/TV/Film from San Jose State University, an MA from San Diego State University and an MFA from Asbury University in Film/TV Production. He is a member of AXIOM church and lives in the West Valley with his wife and three children.