2021 HU Alum Publishes Manga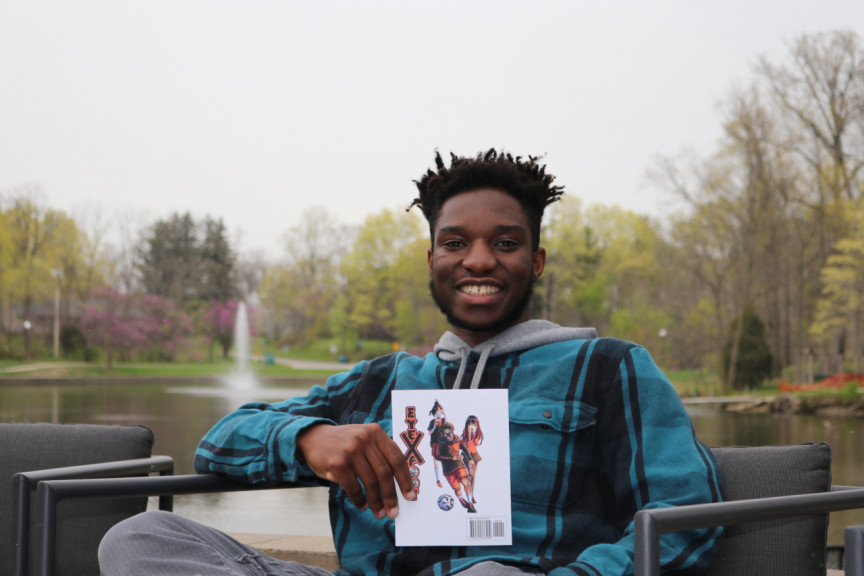 FOR RELEASE: Thursday, June 17, 2021
Huntington University marketing and management alum Mzatiwathu Banda, Class of 2021, has self-published Eye x Foot, his first manga in a Japanese comic book style, on Amazon.
The story's plot consists of two players — Keisuke and Dieudonne — on the same team using their skills to work together to win in futsal, a soccer-like game played mainly indoors on a hard court smaller than a football pitch. Keisuke is better at thinking about their way around the court (eye), while Dieudonne is better at the game's fundamentals (foot). This helps the two players come together to meet the desired end goal: playing the game they love and learning more about each other.
Banda came to the United States in 2017 from Malawi to pursue his dream of earning a college education while continuing his passion for writing comic books. Having played soccer at Huntington University for four years, Malawi has a passion for futsal that he reveals as the story develops in Eye x Foot.
As a child, Banda wanted to write comic books, but that passion began to disappear as he got older. Then, Banda was attacked by two robbers with a machete his sophomore year of high school. Following the incident, he said, "You know, maybe I should get serious about writing." It was an eye-opener for Banda because his desire to write was always next to him. Banda and his writing took off.
After Banda's accident, Eye x Foot was one of the first ideas that came to him. The characters in Eye x Foot are based on people in his life. The main character, who has Banda's middle name, Dieudonne, is based on Banda himself. Dieudonne's best friend in the story, Keisuke, is based on Banda's high school best friend, Sam. The dog, Peaches, is based on the memory of Banda's dog back home. The coach, Mr. Komoto, is based on one of the head teachers Banda had in high school.
"The fact that many people in the book are similar to real-life people made it a story I had to finish," said Banda.
In the first three months of its release, there have been over 200 copies of Eye x Foot sold, and sales continue to rise. Writing helped Banda through high school, and his end goal is to reach out to others through this comic book and future ones. Banda encourages others to keep trying and pushing to achieve their dreams even when difficult times occur in life — just like he was able to overcome. Additionally, of course, he wants to entertain his readers.