A Classroom Perspective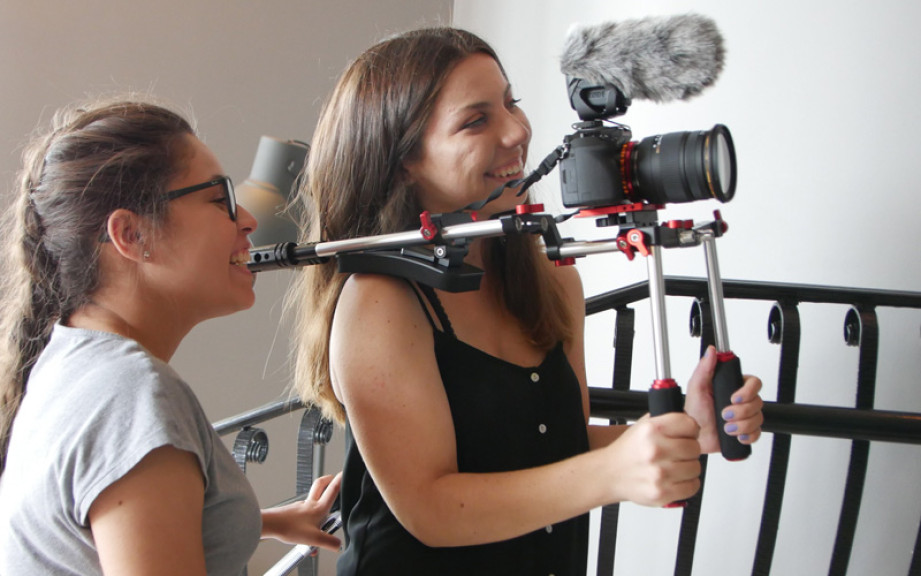 FOR RELEASE: Tuesday, November 1, 2016
When potential students were originally shown our DMA Center as a work-in-progress, they were promised that they would experience a hands-on education. Well, I am proud to say that I think we have delivered on that message. It has been so incredible to witness our Center go from a pretty building to full-on production hub in just one short month. Thus far, our Production I students have completed exercises in basic camera operations and are currently shooting montages to learn the basics of editing. The first batch of projects the students have produced have been well-crafted, funny, and entertaining. One group even captured an establishing shot with a drone, while another ended their video with a literal pie-in-the-face.
Our student's enthusiasm, passion, and eagerness have kicked this first semester off with a bang. Launching a school for film and design in the desert is no easy task, with all of the logistics, permits, and equipment involved. Our Director of Operations, Jeff Berggren, has worked tirelessly with the hope that people are able to imagine the possibilities and catch the vision. We are indeed so grateful to the brave souls who have decided to go on this adventure with us – those who have enrolled for this first fall semester. I also am indebted to Jeff for doing so much of the work he has done on faith. He is a true servant leader.
Students are to schools what paint is to a canvas. They add color, depth, life and balance. Our very first crop is talented, bright, and industrious. As a faculty and staff, we have been so enamored with the energy and enthusiasm happening from table to table, conversation to conversation. By simply occupying the classrooms, taking quizzes, and completing exercises- they have transformed our space from a picturesque establishment into a dynamic university, just by being here. They are already producing high quality work. They are already making us proud. If this first group is any indication of the things to come, the future at Huntington University's new Center for Digital Media Arts looks about as bright as a 2,000 watt fresnel: very bright!
by Phil Wilson, Program Director and Lead Film Faculty. (Published in The Filmstrip, October 2016 edition.)