A New Kind of Forester Baby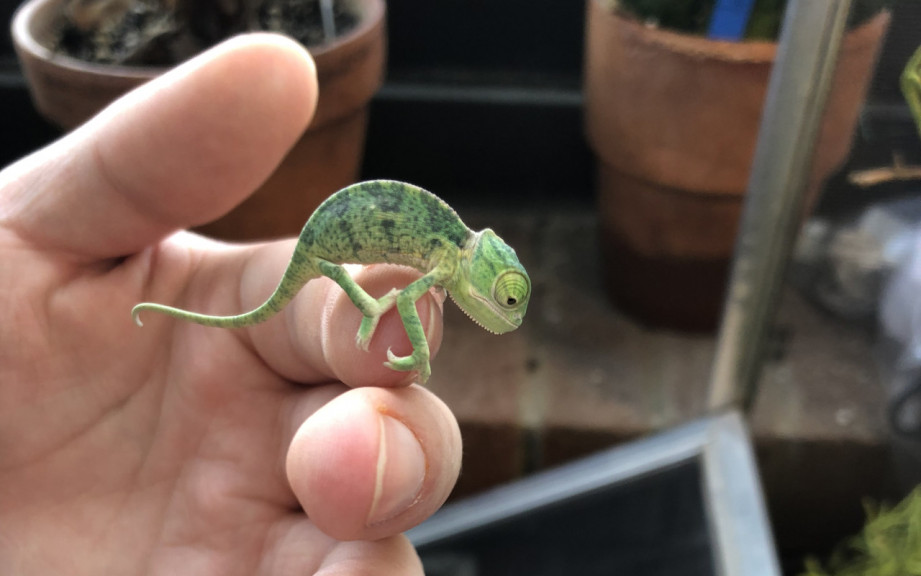 FOR RELEASE: Friday, March 8, 2019
On January 17, 2019 Huntington University had 15 baby chameleons join the family. They are the babies of Grumpy and Cheyenne, two veiled chameleons (Chamaeleo Calyptratus) owned by Jason Ulerick.
Hailing from Peru, Indiana, Ulerick is a sophomore biology major who is working on putting together a C.A.P. degree (Customized Academic Program) which focuses on herpetology, a branch of zoology concerned with the study of amphibians. HU's C.A.P is ideal for students like Ulerick who have specific interests that align with programs already available at HU, but are, perhaps, more specialized. In fact, HU students have pursued C.A.P. degrees in Interactive Game Design, Ancient History and Religion, and Photographic Design.
"Having Jason's baby chameleons in the science building has been fantastic," stated Dr. Collin Hobbs, Assistant Professor of Biology. "They are about the cutest things ever, and Jason does a great job at taking care of them."
The father chameleon, Grumpy, belongs to Jason. He adopted Grumpy from a local pet shop six years ago.
"I just find it so remarkable how life can seem to appear for these little critters," said Ulerick, student at Huntington University. "After being stuck inside an egg for several months and then hatching out to only see how massive the world truly is, can be quite scary and rewarding at the same time."
The chameleon family is located in the science hall on the second-floor greenhouse. If someone that does not have a connection to one of the people caring for them and would like to see the babies, you may contact Dr. Collin Hobbs.