Ashley Spirek Wins Johnston Memorial Award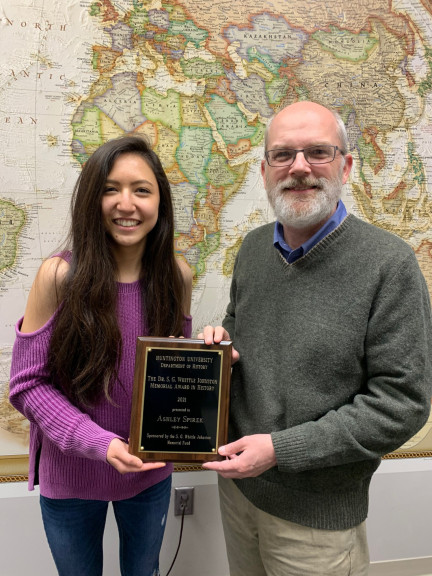 FOR RELEASE: Wednesday, June 2, 2021
The Department of History and Political Science at Huntington University is pleased to announce that Ashley Spirek is the winner of the 2021 S.G. Whittle Johnston Memorial Award. Ashley is from Kiev, Ukraine, and is a 2021 summa cum laude graduate of Huntington University with majors in history, philosophy, and political science.
Spirek's award-winning research paper was chosen by a competitive process, and her project, "The Transformation of the Southern Ukrainian Steppe," detailed the modern agricultural development of Ukraine's rich chernozem, or black soil region, under tsarist and later communist rule. It was completed under the direction of Dr. Jeffrey B. Webb in his advanced seminar in environmental history.
The Johnston Memorial Award is given annually to the author of a research paper written in the Department of History and Political Science. Nominations for the award demonstrate the highest level of intellectual engagement and adherence to the standards of professional scholarship.
"Ashley's research drew from current literature in the fields of environmental history and geography, and it demonstrated keen insight in the problems of conservation and environmental rehabilitation," said Dr. Webb.
The S.G. Whittle Johnston Memorial Award honors the memory of S.G. Whittle Johnston, professor at the University of Virginia, and carries a cash award of $1,000 dollars. It is funded by the S.G. Whittle Johnston Memorial Award Fund, which was established by an HU alumnus and former faculty member to encourage students to strive for excellence in research in the fields of history and political science.