Basketball in His Blood Winning basketball games is an Alford family trait, but coaching players to be better men? That's a family tradition.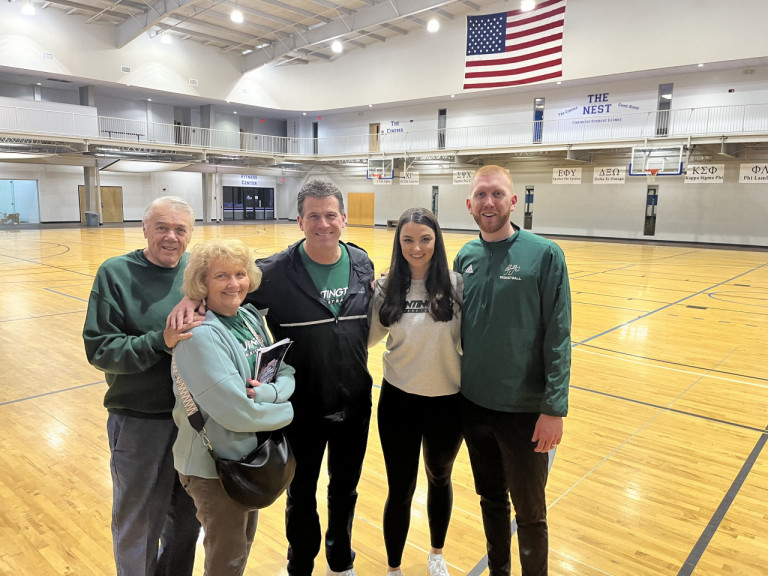 FOR RELEASE: Monday, April 11, 2022
"Basketball has been my life for as long as I can remember. I grew up in a college basketball locker room, and my life has revolved around the constant pursuit of winning basketball games."
As a member of the Sam Alford and Steve Alford lineage, Kory Alford has basketball in his blood. Clearly, being around the world of basketball since he could walk — and likely well before that — has made an impact. At not even 30 years old, Kory is the head basketball coach of the Huntington University Forester men's' basketball team. And he isn't just a coach: He's a winning coach.
In his first season (2020-2021), Kory led the Foresters to a 16-11 record, which proved the program's best winning percentage in eight seasons. Three of those 16 wins came against top 25 opponents. Additionally, HU was the 9th most efficient offensive team in the country and led the nation in assist/turnover ratio. In his second season, the Foresters finished with an overall record of 23-11, which was the most wins in a season since the 2013-14 season. The Foresters went on to the NAIA national tournament for the first time since 2014, beating the No. 5 seeded Georgetown Tigers 80-69. This was their first National Tournament win since 2006 and it was also the biggest upset of the first round in the 2022 National Tournament. Additionally, this season included the Foresters beating four top 25 teams, winning nine road games, and winning 10 conference games.
So how do you go from being a kid on the sidelines watching your former NBA player and Olympic Gold medalist father coach teams across the country to being the head coach of your own team, rapidly leading them toward success?
Kory credits it to the love of the game and a family that has hoops in its blood.
"I am blessed to have grown up in a family with such a legacy, and I have learned so much from my dad and grandpa throughout my life," said Kory. "I have two great mentors that I can reach out to no matter what circumstances I may be facing as a coach, and I know that they will have advice based on their personal experiences."
And to reach out to either mentor, Kory doesn't have to reach far. Both Steve, his father, and Sam, his grandfather, watch his career closely.
"Kory is quite easy to admire, as he is certainly an individual that thinks before he acts. I am very proud of not only his basketball knowledge but the way he puts it to use," said Sam, a member of the Basketball Hall of Fame, inducted in 2002.
Steve, too, enjoys watching Kory's career: "One of those blessings to our family is seeing Kory start his coaching career at a Christian University like Huntington. Kory loves the University and all that it stands for. It has been so good to see my son both growing in his faith as well as growing as a coach and making an impact on young men."
That impact is part of what continues to draw Kory to keep coaching. When reflecting on his first few seasons with the Foresters, he was quick to point out that "the great thing about college basketball is the many life lessons that are taught throughout the season. Every year provides a new opportunity for a group of people to come together and work towards a shared goal. As a coach, I understand the impact that I can have on these young men, and it is my job to develop them so they are ready to enter the world once they leave Huntington University."
And his impact on his team has been tangible. Not only are they growing stronger mentally and spiritually, but Kory is building his team up physically as well. The Foresters had a great offseason on the court and in the weight room. Kory knew, however, that his team had to mature a bit physically, so he pushed them toward a focused approach to development.
"Having the same guys in our system for a second straight year and then adding some freshmen to the mix allowed us to improve in many different areas," said Kory of his roster. "We ranked 8th in the Crossroads League in defensive efficiency in 2020-2021 and were able to improve to 3rd in 2021-2022. That is a huge jump and a big reason why we were able to win more games."
Winning more games is, of course, the goal for the Foresters next season, but Kory and his staff of coaches aren't taking a break during this off season; instead, they are focused on recruiting, because, as Kory puts it, "every offseason provides great opportunity for improvement as a team and as a coaching staff. Recruiting is the backbone of every basketball program, and my staff does a great job identifying the top talent throughout the country that we think would fit what we are building here at Huntington."
Indiana has a love affair with the game of basketball that is quite unique, and for Kory to be able to coach in this state where his dad and grandpa were able to accomplish so many great things is truly special. He is the first to admit that it provides a challenge that excites him.
Is he up to the challenge? Sam and Steve certainly think so.
"After forty years of coaching," said Sam, "I have learned to be careful predicting. The outlook [for the Foresters] is promising, but how hard they learn and work is the answer."
Steve, too, isn't going to make a prediction, but he believes that "Kory, his staff, and team have done an outstanding job of building a winning culture, and I believe that will only continue next season."
When you look at the numbers, it appears that as long as there is an Alford in Indiana, Hoosier — and, more specifically, Forester — basketball will remain strong.
See for yourself by tuning in to the Forester basketball 2022-2023 season at HUAthletics.com.